Chimney Cakes (Kürtőskalács) are delicious! There are many versions and I probably could love them all! Recently I noticed that Joanne Toth-Lysiak was creating and posting about her Chimney Cakes on Facebook and I was intrigued! So I contacted her and asked if she would explain how she went about it! Joanne lives in Welland, Ontario, Canada (near Niagara Falls). Thank you, Joanne! I love that you decided to do this and that you were willing to share about it too!
***
I've never been to Hungary, but it's on my bucket list of places to visit one day. I was born and raised in Welland. Both parents were also born and raised in Welland and spoke Hungarian fluently. Both sets of grandparents (Breitenbach- my mother's maiden name. Toth is my dad's name) were from Hungary. My first speaking language was a combination of Hungarian and English. I forgot most of my Hungarian when I started school. I still understand some of it although it's dwindling quickly as there is nobody around me who speaks it My dad is 90 and loves that I'm trying to make some of the favourites that my grandmother and mother used to make.
I love Hungarian food and, in particular, the baking.  A local bakery, called The Budapest Bake Shop, in Niagara-on-the-Lake Ontario Canada sells the most amazing chimney cakes. I had never had them before! Well, being the frugal Hungarian that I am, I came to the conclusion that I could make them way cheaper than I could buy them. And I wasn't about to invest in a big fancy rotisserie type oven to make them. I did some research (Google is great for that) and came up with a combination of different methods that I was willing to try. I watched a bunch of YouTube videos. The one I settled on was THIS ONE!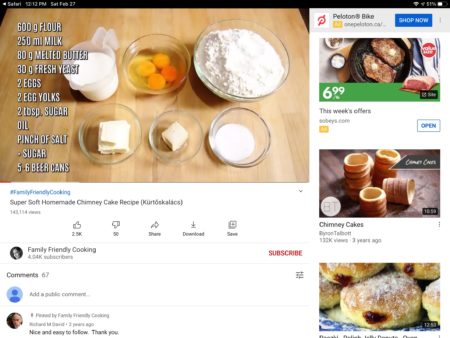 The only thing I substituted was the 30 g fresh yeast. I used 7 g of instant yeast that I dissolved in the warm milk. Once the dough was mixed, I let it sit for a good hour to two hours.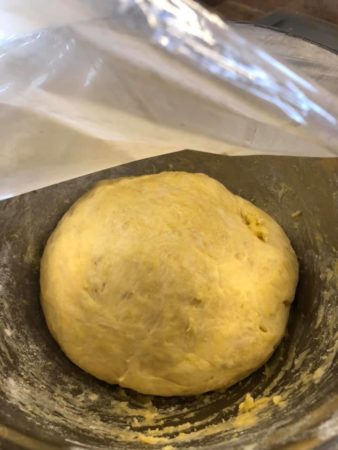 My better half drank the beer that supplied me with the 6 tallboy beer cans.  What a trouper!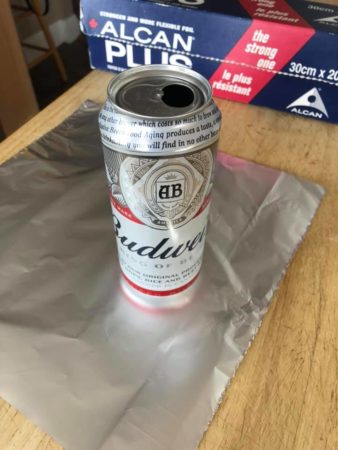 While I was waiting for the dough to rise, I covered the cans with aluminum foil and then oiled them. I think next time I'll need to oil them a bit more because some of them were hard to push out of the baked dough without breaking the spirals.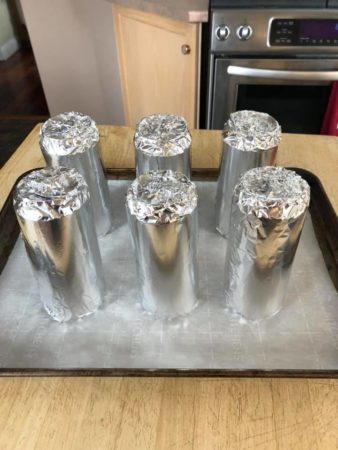 Once the dough was at least doubled in volume, I rolled it into a big rectangle with the dough being about ½" thick. I then cut it with a pizza cutter into strips that were approximately ½" wide.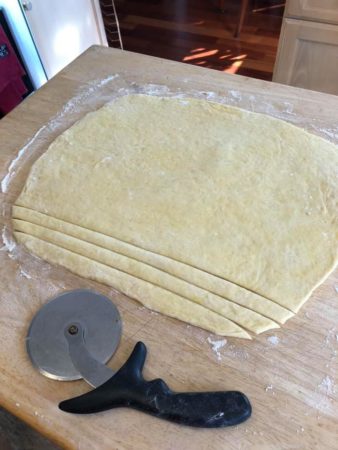 Then I spiraled them around the can, overlapping a bit, all the way down. Mine used about 4 strips of the dough for each can.  Repeat with the other cans.  Gently roll each can so that the spirals kind of flatten out a bit and stick to each other.  Then brush oil on the spiraled dough. Stand them on a cookie sheet.
The next step was to roll the unbaked chimney cakes in the topping of your choice. You can Google the different ones to use. I used 1 cup of ground walnuts mixed with ½ cup white sugar and 2 teaspoons of cinnamon.  I put the mixture on another cookie sheet and then rolled each cake into it and used my hands to fill in the empty spots. You might need to brush a bit more oil on to make the walnut/sugar mixture stick.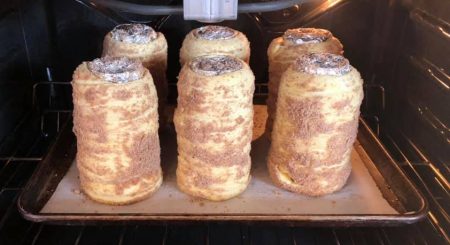 Then I place them all on a parchment paper lined cookie sheet and baked in my oven for 20-25 minutes at 350F or until golden brown.
I pushed the foil cans out of them when they were still warm. And the result was amazing. I got 6 huge chimney cakes out of this recipe.  These were time consuming for me as a first timer but I'm sure I'll be making them again.  Maybe next time I'll try smaller, skinnier cans so that they aren't so big.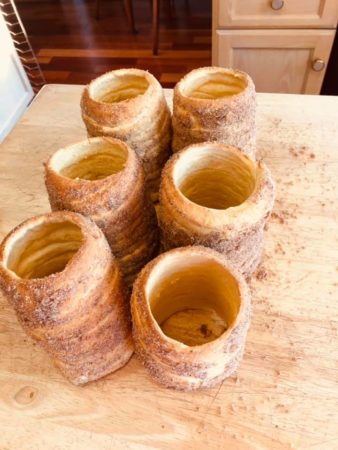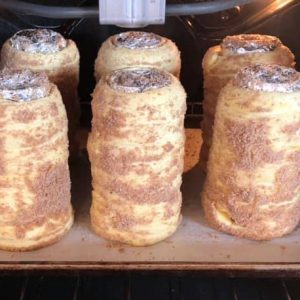 Chimney Cakes – Kürtőskalács
Ingredients
600

g

flour

250

ml

milk

80

g

melted butter

30

g

fresh yeast

10 grams dry

2

eggs

2

egg yolks

2

Tb

sugar

Oil

Pinch

of salt

Sugar

5-8

hard seltzer or tall

skinny beer cans
Instructions
These days, fresh yeast is hard to find so don't stress about it. The dry yeast will work fine.

Pour milk in a pot and add 2 TB sugar.

Heat the milk to about 95 degrees F. Do not boil!

Add yeast and let sit for 10 min.

Add flour salt eggs and melted butter.

Mix dough by hand or with mixer. Sprinkle with flour let rest for 60 minutes.

Prepare your cans by wrapping in aluminum foil.

Put dough on a floured board and roll to ½ cm thick. Cut into strips 1.5-2 cm wide.

Rub oil on the foil. Wrap strips around the can. Lightly roll can with dough so it connects better. Rub melted butter on top and roll in sugar.

Bake at 350 degrees F for 15-20 minutes.
Notes
Some variations: Brush with melted butter when it comes out of the over and carefully roll in sugar, walnuts, coconut, or whatever sounds good to you. Or go the savory way and roll in parmesan cheese, everything but the bagel seasoning, or other cheese/seasoning combinations you love. Explore and have fun with it!