A few year ago, we had a card making party with some "crafty" friends. If you are not a person who is naturally craft-oriented, I recommend you surround yourself with those who are because it is fun to do with a person who knows what they are doing!
What you should gather together:
Find a friend who LOVES to make cards–they always have great ideas and techniques in their brains! And don't forget to check out an idea book from the library!
Hungarian friends and relatives who like to hang around together and work on fun projects.
Card Stock in white and light tan (or other colors that will go with your cards)
Double stick tape
Scissors
Paper Cutter
Pre-printed but inexpensive Christmas cards from a dollar store
Rubber stamps/pad
Crafting paper with Christmas themes
Decorative card punches
Card embellishments
Optional but a great way to set the mood — put on a CD with Hungarian Christmas Music!!!
Before beginning, I typed in a few Hungarian Christmas greetings into a Microsoft Word document and played around with several different fonts. Once I found ones I liked and made them various sizes, I printed them on card stock. I did print some on green card stock but realized that wasn't the best plan so I recommend you stick with white and off white.
Here are some appropriate greetings for Christmas:
Boldog Karácsonyt! — Merry Christmas
Kellemes Ünnepeket!– Happy Holidays (Christmas)
BUEK! — this is the abbreviated form of Happy New Year!
Boldog Új Évet! — Happy New Year!
Print (or write in neat handwriting) the Hungarian greetings on card stock. Cut them out with a steady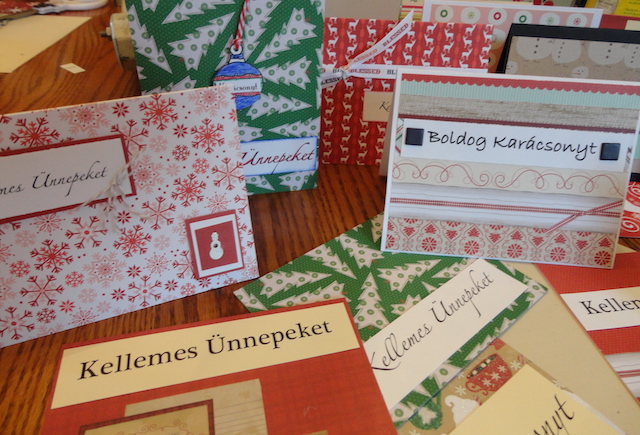 hand or use a paper cutter, add double stick tape to the back and carefully place it to your card. Using pre-printed cards was a very easy way to do this project however you can make the entire card from start to finish. If you are brand new to making cards, I recommend taking the easier road until you get your feet wet and you have more experience. I don't make cards very often so I rely on my friend, Linda, who knows quite a bit about it!
Crafting your own Hungarian cards isn't terribly difficult and can be done for any occasion. This is a fun way to help connect your family and friends with your heritage and increases your practice with Hungarian greetings. Here is a listing of various greetings you can use on your homemade cards:
Gratulálok — Congratulations
Hiányzol — Miss You
Szeretlek — I Love You
Rád gondolok — Thinking of You
Boldog névnapot — Happy Name Day
Boldog születésnapot — Happy Birthday
Nagyon szépen köszönöm — Thank you very much
Boldog Húsvéti Ünnepeket — Happy Easter
Gyógyulást — Get Well Soon
Sok szeretettel üdvözöllek — Greetings with lots of love
Sokszor gondolok rád — Thinking about you often
Minden jót kívánok — Wishing you all the best
You can have a more diverse and fun event with International flair by inviting friends who are excited about their ethnic heritage and encourage them to make greeting cards in the language of their ancestors!
Have fun! And send in a few photos of your creations! We would love to see them!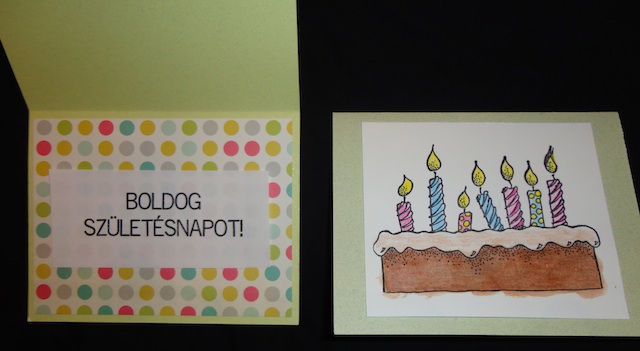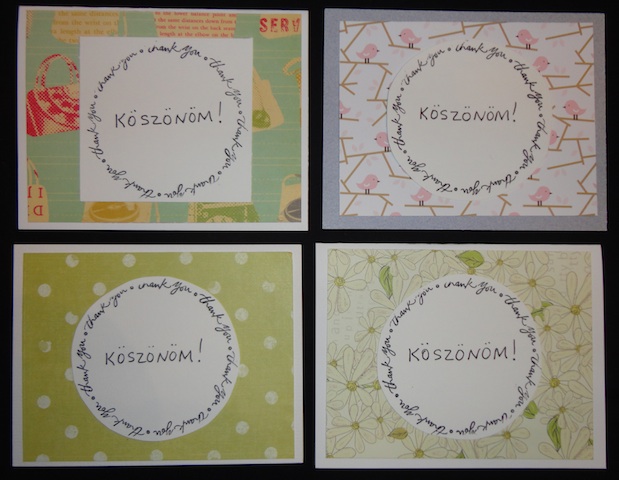 We love to help you discover, celebrate, and share Hungarian heritage! To receive the latest Magyar Marketing catalog, please call 1-800-786-7851 so we can get your name and mailing address and we will send one to you! CLICK HERE to learn more about our tours to Hungary and Transylvania. CLICK HERE to check out the The Hungarian Store website!