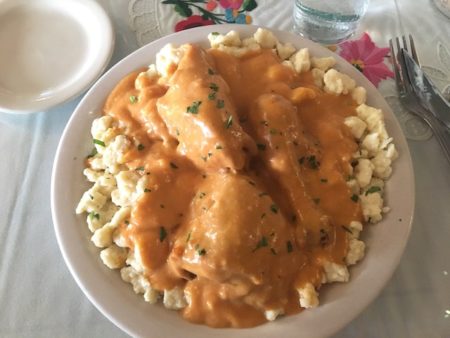 Csirke Paprikas ~ Chicken Paprikas
1 C. chopped onion
1/2 tsp. black pepper
1/4 c. lard, vegetable oil, or shortening
3-4 lbs chicken cut up (I have used boneless in the past but this dish is absolutely better with chicken that isn't boneless–it adds a much richer flavor)
salt to taste
1 1/2 c. chicken stock (or use 1 1/2 c of water and 1-2 chicken bouillon cubes)
1 -2 TB. Hungarian paprika
1 c. sour cream
Saute onion in hot shortening until tender but not brown. Add salt, paprika and black pepper and stir in. Now, add chicken and fry on medium temperature until all pieces are well coated with onion-paprika mixture. Add chicken stock (or water/bouillon cubes) and cover. Cook on low about 1 1/2 hours until chicken is tender. Remove chicken pieces when cooked. Add a 3 or so tablespoons of pan liquid to the sour cream to temper it — otherwise it will curdle). Then add the thinned sour cream to the rest of the liquid in the pan. You can add dumplings to sauce and chicken and serve or keep the dumplings separate and just add the chicken and sauce over the dumplings.
Dumplings/Nokedli:
3 eggs, well beaten
2 1/2 cups flour
1/2 cup water
2 tsp salt
Combine ingredients and beat until batter is smooth. Bring to boil 6 cups of water and 1 tsp. salt. Drop batter by teaspoonfuls into boiling water. Cook 10 minutes. Drain and rinse. Serves 6.
We have served this recipe to many friends who are not Hungarian and they have loved it, their kids have loved it, and they have started cooking it in their homes. This is one great meal!
If you need fresh paprika or a dumpling maker from Hungary, check out the Magyar Marketing website.