Here is a Ham and Bean soup you might want to try. It is another that I play with to my taste. My mother would use chicken broth instead of the water? Again, to taste! ~ Alan Toth
Ingredients:
½ cup oil (olive/peanut)
5 cloves garlic, minced
1 medium carrot, minced
1 medium yellow onion, minced
1 small parsnip, minced
1 stalk celery, minced
1 lb. dried pinto beans, soaked overnight and drained
1 large smoked ham hock
¼ cup flour
1½ tsp. Hungarian sweet paprika, plus more for garnish
Kosher salt and freshly ground black pepper, to taste
½ cup sour cream
12 cups water (chicken broth)
Instructions:
Heat half the oil in a 6-qt. saucepan over medium-high heat. Add garlic, carrot, onion, parsnip, and celery; cook, stirring occasionally, until golden, 7–9 minutes. Add beans, ham hock, and 12 cups water; bring to a boil. Reduce heat to medium; cook, partially covered, until beans are very tender, about 2 hours.
Transfer ham hock to a cutting board and let cool, then discard skin and bone. Shred meat and stir into soup. Heat remaining oil in a 2-qt. saucepan over medium heat. Whisk in flour until smooth; cook 2 minutes. Whisk in paprika, salt, and pepper; cook 1 minute. Whisk in sour cream. Stir mixture into soup and cook until slightly thickened, 4–6 minutes more. Garnish with more paprika, if you like.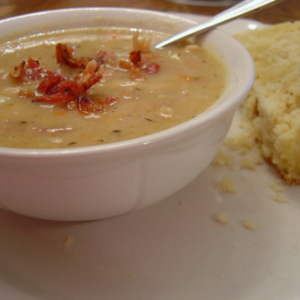 Ham and Bean Soup - Csülkös Bableves
Ingredients
1/2

cup

olive oil

or peanut oil

5

cloves

garlic

minced

1

medium carrot

minced

1

small parsnip

minced

1

stalk of celery

minced

1

lb

dried pinto beans (soaked overnight, drained)

1

large smoked ham hock

1/4

cup

flour

1.5

tsp

Hungarian sweet paprika plus more for garnish

kosher salt

to taste

black pepper

to taste

1/2

cup

sour cream

12

cup

water (or chicken broth)
Instructions
Heat half the oil in a 6-qt. saucepan over medium-high heat.

Add garlic, carrot, onion, parsnip, and celery; cook, stirring occasionally, until golden, 7–9 minutes

Add beans, ham hock, and 12 cups water; bring to a boil. 

Reduce heat to medium; cook, partially covered, until beans are very tender, about 2 hours.

Transfer ham hock to a cutting board and let cool, then discard skin and bone.

Shred meat and stir into soup.

Heat remaining oil in a 2-qt. saucepan over medium heat.

Add flour to oil. Whisk until smooth; cook 2 minutes.

Add paprika, salt, and pepper to flour/oil; cook 1 minute. 

Whisk sour cream into flour/oil mixture.

Stir mixture into soup and cook until slightly thickened, 4–6 minutes more.

Serve garnished with paprika