Special Note: The fánk pictured above has a filling of Bavarian Creme purchased from a local grocery store. Lizzy often makes her own Bavarian Creme but also serves fánk without any filling.
Ingredients and Steps
½ cup of warm water
2 ¼ tsp of yeast (or one packet)
2 tablespoons of sugar
Step One: combine the first three ingredients. Stir until just combined. Set this aside for 10 minutes.
3 Tablespoons of sugar
1 melted stick of butter
1 tablespoon of vanilla
Step Two: Combine the sugar, vanilla and butter in a mixer for about one minute.
1 ½ cups of scalded half & half
Step Three: Pour half & half and the yeast mixture into the sugar and butter. Mix for one minute.
Step Four: add the flour to the previously mixed ingredients. Mix for about 2 minutes. Let this dough sit in a warm place for at least 45 minutes.
3 egg yolks
2 cups of flour
Step Five: after the dough has risen add the egg yolks and the other 2 cups of flour until thoroughly combined.
Step Six: gently roll dough out on a floured surface. Cut into circles. Let the doughnuts rise again for another half hour.
Step Seven: Fill a large frying pan with oil to fry the fánk in. Once the oil is hot enough to fry, gently place the fánk in the oil. Fry for 10-15 seconds per side. Once done, pat fánk dry with paper towels and sprinkle with powdered sugar. Serve and Enjoy!
Tips and suggestions:
I have found that using soy milk works just as well in replacement of the half & half and it cuts calories by 15%!
Instead of frying the doughnuts, you can bake them as well. In a 350 degree oven, bake for 10-15 minutes in a glass dish. This will result in a lighter colored fánk.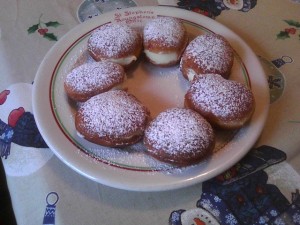 Lizzy holds an Associate's Degree from Lakeland Community College and a Bachelor's Degree in Business Administration from Cleveland State University. She is currently in pursuit of her Master's degree in Business Administration. Lizzy is happily married to a Marine Corps veteran named Nick, and they reside in their newly built home in Huntsburg, Ohio. They are anxiously awaiting the arrival of their first child, in June of 2017. Lizzy is proud of her Magyar heritage. In her spare time, she co-hosts a weekly Hungarian Radio program along with her siblings and parents. For more information on Liz and her family's radio show, search "The Souvenirs of Hungary Radio Show" on Google. Lizzy is also a writer for the William Penn Association Life magazine. She creates monthly word searches accompanied by short stories, that are always Hungarian themed in nature. Lizzy has an extreme passion for cooking. Her love of cooking was inspired by her Mother, (Betty) Grandmother (Ann) and Great Aunt (Jenny). Lizzy collects Hungarian cookbooks with over 25 different editions. Her favorite creations favor the sweeter side of the culinary arts, Dobos Torte, Holdalaku Sutemenyek, Kifli, Kalacs, Csoroge and Fank to name just a few!