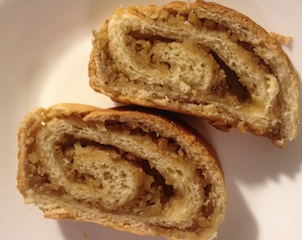 Delicious Dios Beigli
Dough
2 tsp. dry yeast
1 cup lukewarm water
4 tbs. sugar
4 1/2 cups flour
1/2 cup butter
2 eggs slightly beaten
1 tsp. salt
Instructions: 
Pour yeast in bowl, add water and sugar stirring until dissolved.
Blend flour and butter with wire pastry blender.
Mix well, mix in eggs, salt and yeast mixture.
Mix until dough is smooth and leaves side of bowl clean.
Divide dough into four equal parts, wrap each section in wax paper and place in the refrigerator.
Make filling.
Filling
1 pound finely ground walnuts
1 cup coconut flakes (we use Bakers sweetened coconut in a bag).
3/4 cup of sugar
3/4 cup honey
3/4 to 1 cup of boiled milk
1/4 cup melted butter
If you like raisins, they can also be added to the filling, just soak them in some milk and cut back on the ground walnuts.
Instructions:
Mix filling in bowl using only 3/4 cup of boiled milk, It should be thick. If not spreadable use the rest of milk.
After about an hour, take one portion from the refrigerator and roll out into a rectangular shape about 12″ x 15″. You will need to use a little extra flour here so the dough does not stick but only use a little. Too much flour will make the dough dry.
Gently spread the filling on the rolled dough within 3/4 inch of the edge. Roll up tightly, tuck the ends in and under. Place in a greased baking pan with the seam on the bottom. Let rise for about 20 minutes.
If you use a jelly roll pan, make the rolls only as long as the shorter side and line all four up on the same pan but evenly spaced.
Prick each roll with a fork on top about 6 times to keep roll from splitting while baking.
Brush with egg whites, if desired.
Bake in 300 degree oven about 40 to 45 min. or until golden colored.
These cakes can be wrapped in plastic wrap and then foil and stored in the freezer after they are baked. Enjoy!
Makes 4 small beigli.