When I saw this project, I reached out to Dorothy and asked if she would share her story! It's lovely and inspirational! Do you have pieces of embroidery that can inspire you in some way? ~ Liz
My mothers family is from Budapest. I believe my fathers family was Hungarian Transylvanian My parents were captured during the '56 revolution. They were freedom fighters and met in the prisoner of war camps. They escaped and went over the Swedish borders where they had my two oldest sisters and then they emigrated go Melbourne, Australia where they had four more girls myself and my twin being the youngest. My family lived in Australia for 15 years, 9 of those (for me). We grew up in the Hungarian community. The Protestant reformation church and Hungarian hall were our lives. My mother was involved in all of it as she was a chef and baker and owned a bakery in Melbourne.

If someone wants to be involved in the Hungarian community, look to the Hungarian hall to connect with other Hungarian people or look for the restaurants and bakery/deli to reach out to the community. Sadly, where I live we have no more Hungarian restaurants/bakery/deli. My favourite way to connect to my heritage is through my mums old Hungarian music records. I have her collection so I listen to them. I cook Hungarian food and I keep in touch with my cousins in Hungary that I have never met.
This dream of having a Hungarian kitchen has been with me my whole life. At some point, I must have seen old pictures of hand painted furniture and walls with Hungarian folk art and with the help of a wonderful young man, Abay, my son from another mother, my dream has come true over the course of a couple of months. ~ Dorothy P.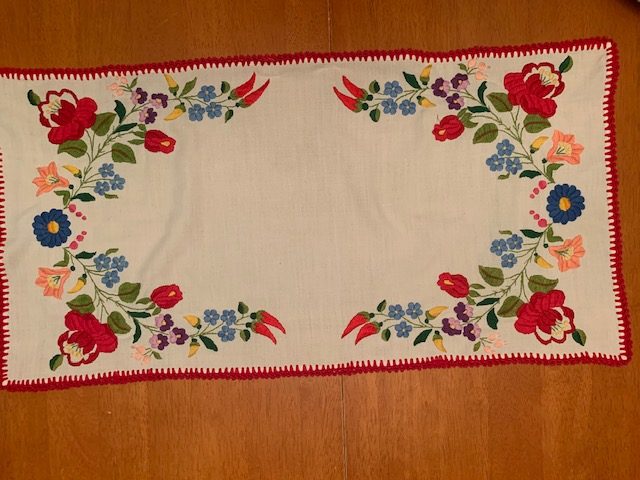 We took my mother's embroidery and sketched different sections of it and mixed up some of the sections to create what I have now The cupboards started with an oil base white paint for a blank canvas, then we did the freehand sketches. Then I used normal acrylic paints and now I have my Hungarian kitchen. I just have four more flowers to paint and I'm finished!