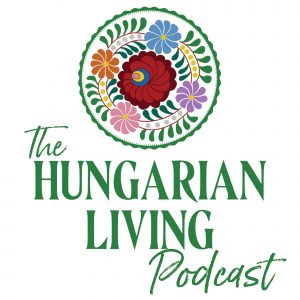 Today on the Hungarian Living podcast I talked with Juli from Catch Budapest.
Juli and Flo run Catch Budapest together. Flo is from South Tyrol – a German-speaking minority in Italy. Juli is Hungarian. Flo wanted to learn Hungarian but all he found was outdated textbooks, obsolete apps – the kinds of things that teach you 5 different ways to say hello and goodbye or focus on dry grammar rules – but there wasn't anything with a real true-to-life application the courses were created.
3 big groups of Hungarian learners:
* Those who live in Budapest.
* Those who have a Hungarian partner/family,
* Those who live abroad (US, Australia) and seek their heritage. Many people fled Hungary during the world war or communism, and the descendants of these people are very eager to connect to their roots and learn the language their grandparents and great-grandparents spoke.
Along with technology and modernization the language evolved and people speak differently than they did 50-70 years ago.
Smart Hungarian Short Stories Course (SHSSC)
e short stories: It tackles the challenge of understanding the unique nature of the language, suffixes and prefixes and the sentence structure. It helps people to understand why Hungarian is built up the way it is and this way helps people form their own, correct sentences.
One thing we often hear is: "Juli, I will never form a correct sentence!" and we created the short stories to alleviate this. It consists of 8 short stories and we wrote all of them from the pool of the 2,000 most frequent Hungarian words.
The most important thing/feature is: Each story is interactive – you can click on every suffix and prefix, and see its meaning, see what it does to the verb, see why it's conjugated that way. The job of the learner is to read and enjoy the stories and understand suffixes, prefixes and the sentence structure – basically the grammar – through this enjoyable and exciting activity.
Of course, we have also added translations and plenty of exercises to each story to practice what you've learned.
Smart Hungarian Audio Course (SHAC)
SHAC tackles Hungarian from a different angle. It's a listening course. We created it because one of the biggest challenges our learners and also Flo faced is that no matter how much people learn Hungarian, no matter how much vocab they learn, how much time they spent with grammar, they weren't able to follow a regular, normal-paced Hungarian conversation.
This is because spoken Hungarian is very different from written, textbook-Hungarian. The latter doesn't prepare you for the former. In real life people slur, speak fast, and no textbook-dialogue will prepare you for this.
This is why many people give up learning, actually. They spend so much time studying at their desk at home but don't see any results in real life. So the SHAC consists of 20 natural, spoken Hungarian conversations about relevant, everyday topics.
The most important part: It comes with transcripts, translations, etc. which makes all the difference to watching a movie, or listening to the radio for example. Learners can exactly see where the gap is between what they studied at their desk and real-life spoken Hungarian.
Get connected with Catch Budapest!
Our homepage: https://www.catchbudapest.com/
The Smart Hungarian Short Stories Course: https://www.catchbudapest.com/hungarian-short-stories-course/
Use code HungarianLiving for 30% off
The Smart Hungarian Audio Course: https://www.catchbudapest.com/smart-hungarian-audio-course/
Use code HungarianLiving for 30% off