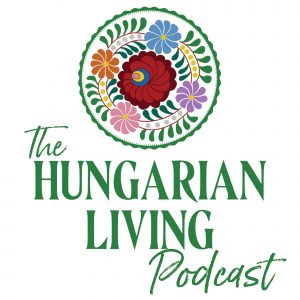 Episode 59
Szia! This is Part 2 of the icipici edition of the Hungarian Living podcast on Getting Started with Hungarian.
Last episode, I asked all sorts of questions about why you might want to learn Hungarian. It is important for you to think about your motivation because that is what will keep you going when things get difficult because things WILL get difficult. I promise you. Learning Hungarian isn't easy but I find it fun, challenging, and rewarding. I always circle back to my WHY. It helps me stay the course.
My parents spoke Hungarian fluently and could also read and write in Hungarian. I have mentioned before that my great grandparents all came to the US between about 1880 and 1927 Most of my grandparents were born in Hungary and came over as children. so Hungarian was their first language. And they met and married their spouses and continued to teach their children Hungarian even though I don't know that anyone was planning on going back to Hungary. And so my parents kind of continued that but, if you have heard my story, you know that I was the third child born in the family. And I think there were other things that were more of a pressing for my family.
But back to you thinking about your study of Hungarian.
The next thing you want to consider if you want to study Hungarian is HOW, HOW OFTEN, and WHEN. Think about the time you have available to devote to the project. Can you spare a couple of hours a week? Or do you have time for this to be a full time job? And, of course, how much money is available to you for this endeavor?
You can cobble together some free things to study, but it will take you some effort. You will have to spend the time figuring out if you like the format and if it is helping you achieve your goals. If you have more time than money, this is the way to go.
There are apps for your smartphone.
There are some instructional resources out there that are free.
You can listen to music with lyrics on YouTube.
If you have a little money for the project, you might want to spend some on small group lessons either in person or online, and then add the "freebies" to round out your approach. For example, some of the participants in our small group lessons meet an additional time each week as a study group. It doesn't cost more money because they are meeting together to work on the homework from class without their instructor. They share resources. And the one who understands the concept best can explain it if someone is confused. Of course, they know they can always talk to their instructor, too. It's just an extra point of connecting with the language. And they might participate in our Hungarian Dialogue Sessions or Hungarian Language Clinic or use one of the many apps for studying Hungarian. It might take a little bit of exploring to find your most useful combination.
If you have a lot of money and you are available 15-40 hours a week, you might want to take a deep dive into an intensive online or in person class. As I mentioned before, I spent a month at the DNE but they have some language schools in Budapest and one in Pecs and probably in Szeged, as well. In fact, you can take a year off and study Hungarian for real either in Hungary or from the comfort of your own home. But, be sure to have some ibuprofen along with you. It was hard work for me to be engrossed in the language every day for 6+ hours. It's intense.
I have done a deep dive in Debrecen at the Debreceni Nyari Egyetem for a month and I have also piddled around here and there over the last 15+ years. I have tried a lot of the free apps but, honestly, I always have questions because I don't always understand everything. I look for patterns. Sometimes I see them, and they aren't really there. I have certainly made the most progress with my language skills in the last two years by regularly engaging with the language. I spend about 8 hours a week in class or working on a language app that has its pluses and minuses but still is something. It's a hodge podge of things and I will get into more detail in the upcoming episodes. But, I want to warn you that I still get nervous trying to say what I want to say in Hungarian. I can listen and understand a bit. But when I go to speak, it's like my tongue is tied. I think it is my personality because I am definitely like that if I ever have to speak on a stage in front of a group of 20 or more people –even in English, where I am quite confident. Thankfully, those moments are extremely rare. I don't have to take the stage. But the same feeling of incredible nervousness overtakes me when I try to speak a sentence in Hungarian. I stumble and stutter and my mind goes blank. This is especially true if I have to answer quickly. But I hear that this problem means that I am rounding the final stages of communicating in another language.
Whatever you do, keep in mind, it is important to practice the language with others. Taking classes one hour a week will not make you fluent in a year. Be realistic. Hungarian is fun and logical and interesting. But it will take some consistent effort on your part. I say put as much Hungarian into your ears, eyes, and mouth as you can:
So think about it: Are you a visual or auditory learner? you like to just work on your own or do you like knowing there are others out there, working through the same material? Is it important for you to have an accountability partner? Do you like to work through a textbook? Or would you like to use videos and some apps.
There are so many possible combinations that it's ok to stop for a minute and think about what you know about yourself, what you already know about Hungarian, and how you best learn. Combine these thoughts with the thoughts I shared in the first episode of this Getting Started in Hungarian and you will have a solid foundation for moving forward.
We'll get to some practical resources next time. In the meantime, if you have questions about how we do things in our language classes, send me a message at [email protected] we are starting new classes soon and would love to have you join us.
If you like the things we talk about here on the podcast then you might love to receive our e-newsletters! We share all kinds of information relating to Hungarian heritage and ways to make a deeper connection to a variety of Hungarian things. We will have a link in the show notes to sign up as well as information with some of our class options! Sign up here!