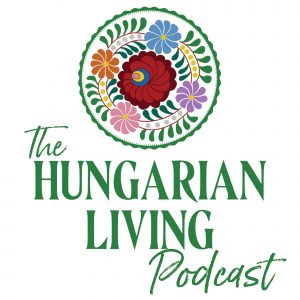 Episode 61
Hey there! This is Part 4 of the icipici edition of the Hungarian Living podcast on Getting Started with Hungarian.
So, let me tell you, I have ALL KINDS of resources for learning Hungarian in my office. I have some oldies, like Irka Firka. I have curriculums from Debrecen and Pecs, I have a book and audio recordings from the Foreign Service Institute, and Pimsleur. Did I mention Complete Hungarian? Teach Yourself Hungarian? Hungarian the Easy Way? Hahahaha! Ok — That title cracks me up! Is there an easy way to Hungarian as an adult???  But really it isn't a bad resource. I just think it is a funny title.
I have resources by Berlitz and Hippocrene and even some brainiac games for various ages. And, I have to mention Say it in Hungarian, Just Enough Hungarian the Hungarian Picture Dictionary, The Hungarian Bible for Children and countless dictionaries of all sizes. Cassette tapes? Cds? Mp3 files? Online links to programs? I've got em!
So, let me just say that having resources is not my problem. I inherited about 75 % of the resources I have from my mom and the rest I have collected over the last 15 years or so. My mom knew how to speak, read, and write in Hungarian. She was an educator. And we caught a lot of Hungarian through the years, but she knew that it takes a special skill and/or training and a lot of patience to fully teach the Hungarian language. She also knew there were so many people struggling to learn it. She knew people could speak it but not know how to read and write it. And I have all sorts of projects she was collecting and working on as she was trying to figure out how to help solve the problem.
Just because someone can speak and read and write in Hungarian doesn't mean they can teach it. For example, I speak English pretty well. But I am absolutely not an English teacher. In fact, I have learned a lot about the English language from my Hungarian instructors. Let's just say, English grammar wasn't my jam. There is something special about a person who understands and can explain things at my level. Not every trained teacher is a good one. And you don't have to be a trained teacher to be an effective one.
So back to resources — I have enough resources. Having a few different ones is helpful because not every resource covers everything. Sometimes there is a concept that needs to be approached from a couple of different perspectives. There is no one curriculum or resource that does it all. And, just to clear the air up about a rumor – Rosetta Stone does not offer Hungarian.
In addition to a few resources, I, personally, need two things. I need accountability. I need that steady appointment with another person. I need that commitment to connect with another person. I benefit from assignments, although I must confess, I don't always do them. And even though I am most often a visual learner, I need the Hungarian language in my ear in addition to being able to see the words and play with the letters. But, I also need a little skin in the game. It is worth it to me to pay out a little money because I know I will show up, even if I am not in the mood. And, a laborer is worthy of his hire. If someone is going to take time out of their day for me, I need to be there and not waste their precious time. And, I should be willing to pay them for their time.
What resources do you have hanging around. Drag them out and dust them off. How can they be useful to you in your desire to study Hungarian? I know they can be useful. You just need to use them! But don't discount that regular, weekly appointment with a small group as a part of your plan. The accountability and friendship might be just what you need to get motivated!
And, if you need some resources, we have a few. HERE IS THE LINK FOR RESOURCES
Our small group online classes are starting soon. HERE IS THE LINK TO CLASSES
Thanks for thinking through all this and laughing along with my resource list. I know you laughed. It's ok. It makes me laugh, too!