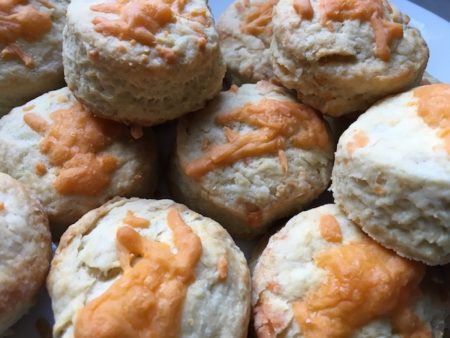 POGÁCSA
(Adapted from a recipe from Fenyőharaszt Castle Hotel in Hungary)
While we were in Hungary in February 2018, we had some fantastic pogácsa at one of our stays. I really don't know why it was so good except that it was. The place we stayed graciously shared their recipe. We translated it and then put it into Imperial amounts (standard U.S. measurements).
Ingredients:
3.5 cups flour
1 cup butter
½ c sour cream
¼ cup milk
3 TB yeast
1 teaspoon sugar
1 egg for dough
1 egg yolk (for egg wash before baking)
Directions: 
Mix lukewarm milk, sugar, and yeast and let it start to bubble – about 5-10 minutes.
Mix all the ingredients together and let the dough rest for about 30 minutes.
Roll out the dough about ¾ inch thick and cut with a mini biscuit cutter or shot glass dipped in flour each time. I used parchment paper on my cookie sheets.
Bake for about 25 minutes at 350 degrees.
I cut down on the flour a little because I felt they were a little dry. I have tried other recipes where they have added cooked smashed potato in the dough. I might try that again next time.
I also added in ½ cup sharp cheddar cheese after the dough was a lump. Adding the cheese too soon gets it coated with flour and then it doesn't want to combine with the rest of the dough as easily.
You can add diced bacon cut and fried up (Hungarian style is the best here) or you can also add in a bunch of herbs for another taste angle.
I will keep working on these babies. Now that I have gotten over my fear of making pogácsa I feel like I really want to continuing to tweaking this recipe so I can own it.