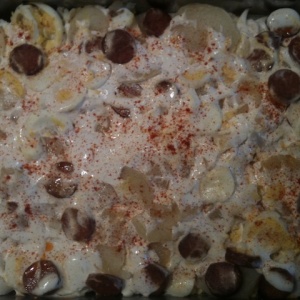 Rakott Krumpli
If I was going to pick a dish that reminds me of growing up in a home with an abundance of Hungarian food, this would have to be it. We used to have a Hungarian butcher in Youngstown, OH which is where we bought our hurka and smoked kolbász. It was always fun to go to the store and smell all the amazing aromas of a Hungarian butcher shop!
This dish really needs Hungarian kolbász to give it the great Hungarian flavor. But those who are not used to the intensity of Hungarian kolbász can substitute polish sausage–definitely not the same but it would be more mild for those tender Americanized palates.
Here is what I did–and I am guessing on the amounts so bear with me!
Layered Potatoes ~ Rakott Krumpli
Spray a 9 x 12 casserole dish with non-stick spray.
6 large baking potatoes (with skin) cooked in a pot until tender but still firm. Let these cool. Peel and slice.
1 dozen eggs hard boiled. Cool in ice water. Peel. Slice.
2-3 packages of Hungarian style smoked kolbász sliced to 1/4 inch, cut in half, and pan fried a little to release the amazing aroma and fat. We use a combination of both hot and mild kolbász.
2 pints of sour cream.
1/2 – 1 cup of milk.
Lawry's Seasoned Salt
Hungarian paprika
Tip: Find a local butcher or church that has a sausage sale or you can buy it from us.
Place 2 or so sliced potatoes, 4 sliced eggs, and 1/3 of the sliced kolbász in the bottom of the pan. Sprinkle Lawry's seasoned salt (we use it on most everything) and 1 cup of sour cream thinned out with a 1/4 – 1/3 c of milk just so the sour cream isn't so gloppy. Repeat this procedure 2 more times. Sprinkle the top with some beautiful Hungarian paprika. Some people really like a lot of sour cream. You are going to just have to adjust things until they are the way you like/remember them.
Cover and bake for 30 minutes at 350 degrees. Take off the cover and bake for an additional 10-15 minutes or until done. It is delicious the first time around, but fantastic reheated as leftovers. If you take it to work for lunch, your co-workers will be jealous!
This does not cook down so finding a casserole dish that is a little bigger would be helpful. Depending on the size of your eggs and potatoes you might end up with something left over that won't fit in the dish. Don't despair as it is better to have too much than not enough!
You can substitute cauliflower for the potatoes in this recipe. Of course, that does change the name because krumpli is one of the words for potato in Hungarian. Rakott Karfiol means Layered Cauliflower.
We love to share news about upcoming Hungarian events, recipes, our tours to Hungary and Transylvania, and creative projects connected with Hungarian heritage. CLICK HERE to sign up for the Magyar Living e-newsletter!