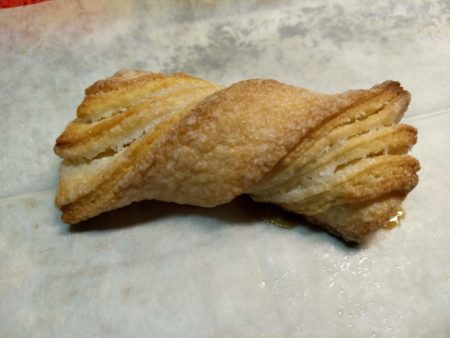 Sour Cream Twists By Dorothy Bolla
Ever holiday we would get together with the Bollas, these little gems were around. They aren't really complicated but they are tasty and perfect with a cup of coffee. Even though her great-grandchildren weren't born before she died, they carry on this recipe and family tradition as a way to honor her and make some fun kitchen memories.
Ingredients
1 cake of compressed yeast
(or 1 pkg dry yeast)
¼ cup lukewarm water
3 ½ c sifted flour
1 ½ teaspoon salt
½ c butter
½ cup Crisco
2 beaten eggs
½ cup sour cream
1 tsp vanilla
1 ½ c. sugar
2 more tsp. vanilla
Directions
Soften compressed yeast in warm water (or substitute 1 pkg dry yeast softened in ¼ cup warm – not hot – water). Sift flour with salt; cut in butter and shortening. Blend in eggs, sour cream, 1 teaspoon vanilla, and yeast: mix well. Cover and chill for at least 2 hours. Dough may be stored in refrigerator up to 4 days and baked as needed.
Mix sugar and remaining vanilla. Sprinkle board with about ½ cup of the mixture. Roll out ½ of dough to a 16×8 rectangle; sprinkle with 1 Tablespoon more vanilla sugar.
Fold one end of dough over center. Fold opposite and over to make 3 layers. Turn ¼ way around and repeat rolling and folding twice; sprinkle board with additional vanilla sugar as needed. Roll out about ¼ inch thick. Cut into 4×1 inch strips. Twist each strip 2 or 3 times. Place on ungreased baking sheets. Repeat entire process with remaining dough. Bake in 375 degree oven for 15-20 minutes until light golden brown.
Makes about 5 dozen twists.