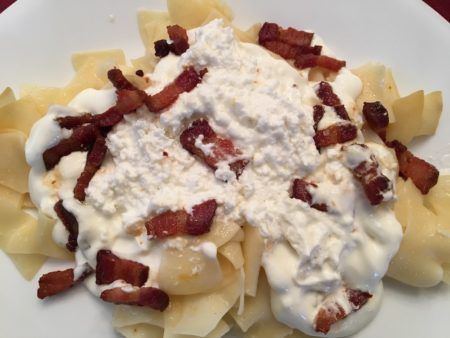 Túrós Csusza (Farmer's cheese and Bacon with Noodles)
This is a quick-to-fix, delicious Hungarian dish! Egg noodles, túró (this special cheese is hard to find in the USA so Amish friendship cheese is perfect for this recipe), sour cream, and szalonna (Hungarian bacon) combine together in an amazing way. Regular bacon is fine, but the dish definitely goes up a notch or two with Hungarian-style bacon.
This can also be served sweet like a dessert if you choose to sprinkle on sugar instead of bacon but I am all about the savory version.
Can't find Amish Friendship Cheese? Make your own! It is extremely easy to make and worth it to know because it can be used in a number of Hungarian dishes. Click here for the recipe!
Ingredients (serves 2)
Preparation
Set out cheese to come to room temperature.
Set out sour cream to bring to room temperature.
Throw egg noodles into boiling water with a pinch of salt. Cook according to package instructions (about 8 minutes).
Cut bacon into bits and cook on a frying pan.
Drain noodles and add dollops of cheese, sour cream, and bacon pieces to your plate.
Season with salt, paprika, and pepper to taste.