I "met" Terie through Facebook several years ago and I am always amazed at the time and talent and creativity she uses when baking! She does a great job with Hungarian themes and has a heart that loves to research and share. I think Alex and his family are blessed that Terie has spent the time researching their family history! Thank you, Terie, for sharing your journey!  ~ Liz
***
by Terie Vass
A few years ago I realized my husband Alex, who is of Hungarian descent, had no idea of what that meant or even the story of his grandparents coming to America. His father and grandfather never spoke of their lives. His father was born in Cleveland, raised in NYC but spent many childhood years in Hungary. I thought Alex deserved to know his family history, so I set out to find out. Being non-Hungarian myself and with no knowledge of the language, I was determined to find out what I could!
I started at Ancestry (.com). Useless. I called surviving family members but they weren't of any help and had no interest. One frustrating day online, I yelled towards the heavens "how about a little help here?" Suddenly I got this idea, the old family Bible we saved from the trash pile after my mother in law had died a few years prior? I had never opened it. Never thought about it. Turns out, it was a gift from grandpa Sandor (Alex) just before he died in 1967. Right in the middle were names & places I'd been searching for! I have to believe someone upstairs was helping me. Now, two years later I've found living relatives in Ukraine, Romania and I'm working on one in Budapest. I know grandma Amalia Bak came from Metelek, Szatmar and the names in her family like Gyarmati, Finta, Enyedi, Stecz. I know the Vass family came from Tiszaujlak Ugosca and I've made friends on Facebook with people in that small Ukrainian town, now called Vylok, who help me search. I'm doing this, not just for my husband, but for his daughter and three grandchildren. Megan soaks up the information I share. She loves to bake, so when she said she was making Kalacs yesterday I almost cried. She resembles her great grandma Amalia who must be so proud looking down on her. My husband never met his grandmother, who died 3 months before he was born. But after all my research, I feel as if I know her.
Every year I make a gingerbread structure of some kind. I have always been fascinated with the Reformed church in Szamostatarfalva, Szatmar for it's amazing bricks and the fact the it was built sometime in the 1300s. And as a bonus, it was the family church for many years of Szentmiklosi es Ovari Pongracz Iren, my husband's great grandmother and his Ilosvay ancestors also. She and Janos Vass were married there in 1882. Google street view has allowed me to feel like I'm walking right down the street in front of it and other photos allow me to feel like I'm inside. So this year, it had to be my project!
I'm not a professional, my work is not perfect but it's made with love. It's another way to show respect for my husband's heritage that his family failed to share. I have to believe it would have been different if Grandma had been around. Megan and her children will know where they came from, what strong amazing people they come from and as much of the customs I can learn. I'm blessed with wonderful Hungarian friends both here and in Hungary who help me with recipes and stories. It's been a beautiful journey, and it will continue.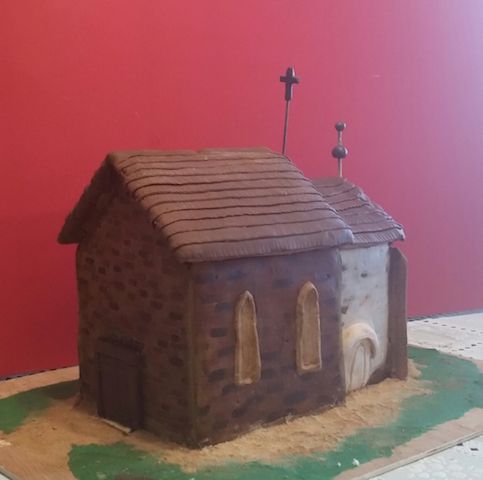 If you have an interesting story about how you carry on Hungarian heritage in your family, please contact Liz at [email protected] to share your story.
We love to help you discover, celebrate, and share Hungarian heritage! To receive the latest Magyar Marketing catalog, please call 1-800-786-7851 so we can get your name and mailing address and we will send one to you! Click here to check out the Magyar Marketing website!