I am not a crafty person but I know some incredibly talented people who love to play with different mediums and create. I have seen some beautiful cakes decorated like Hungarian embroidery and I have even taken embroidery samples to a bakery and paid them to create one. But I must confess that after reading this post, I actually think I might be able to pull this off. If you have created a similar cake before or if you do this year, I would love to see a photo. Don't limit yourself to just one kind of Hungarian embroidery style.
Thank you, Terie, for taking the time to share your experience and encouragement! ~Liz
***
by Terie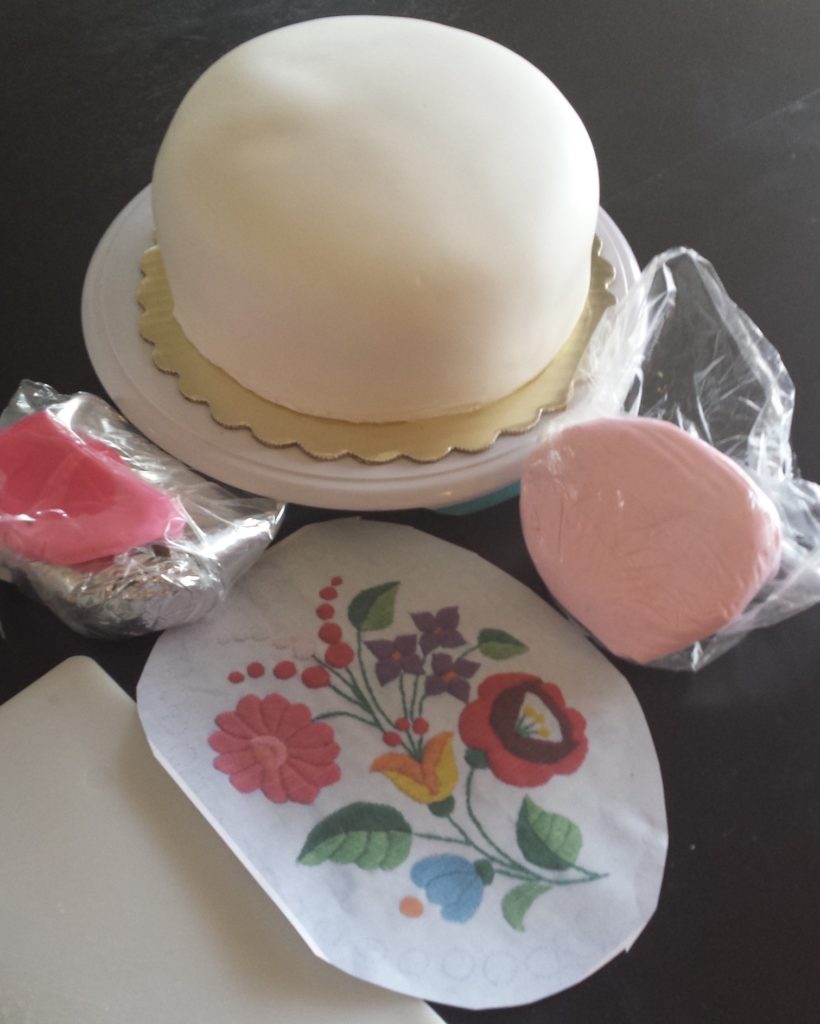 Ever look at the beautiful Kalocsai cakes online and wish you could make one? I did.
Did you place with modeling clay as a child? I know I did.
I've done a lot of work with modeling chocolate in my cake designs and it works well but not everyone wants to go to the trouble to make it. So I thought I'd try fondant and it works wonderfully!
Here are the basic things you need before you start:
* A fondant covered cake. On a cake board or a flat plate that's easy to work on.  (No experience with fondant?  Check out this video and let Duff Goldman make you a pro!) You need a small amount of each of the colors you want to use. You can buy small amounts or color white with gel paste color but be sure to wear gloves because it stains!
* A photo/color drawing, covered in plastic wrap. I mount mine on cardboard now. Much easier to work with!
* A set of fondant tools. But things from your kitchen will work as well. Experiment!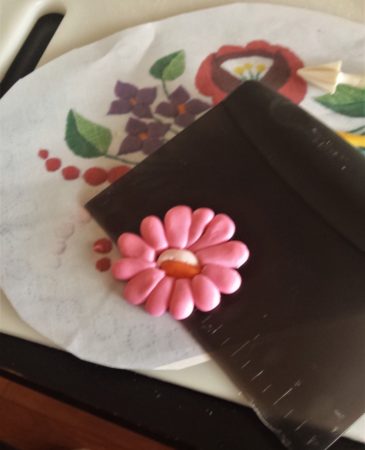 I start from the center of the design out. I normally follow the original colors. Simply break off a piece of fondant and manipulate it into the shape in the center of the first flower as thick or thin as you like. Keep the part you're not using in a sealed bag. It does dry out.
Does your flower have lines in it? A toothpick or knife will make them. The flowers usually have several pieces to them. Just lay the pieces on your plastic covered design. You can buy special flat tools to transfer your flowers to the cake or you can buy an inexpensive putty knife, as wide as you can find.  Moisten the cake top very slightly with a damp tiny sponge paint brush to help the flower adhere. Stay within the area of the flower or it will show.
It's much easier to buy a leaf cutter than make them freehand. You can make your cake as intricate or a simple as you like. You can make a border your the bottom with a strip of one of your colors. Do you have a steamer? LIGHTLY steamed fondant shines. Practice on pieces off the cake first. A pretty plate is a nice touch.
Here are the photos of the first cake I made. I kept it simple. I have made six cakes so far and my next project will be a classic Maytó design on a black background with fringe, like a tablecloth I have. Every flower will be touching the one next to it.
The idea is to have fun! Cake Boss (Buddy Valastro) told me that as long as you had fun and felt the joy making it and people enjoyed eating it, it doesn't matter if it isn't perfect!!
~ Terie
Another note from Liz: If you don't think this is something you are able to do, no problem! All you need to do is find someone who knows how to work with fondant! Many bakeries have talented cake artisans who might be up for the challenge! Click here to find out how we have enjoyed the beauty of a cake that looks like Hungarian embroidery without all the stress!
Magyar Marketing is a second-generation family business that began in 1988. Our mission is to provide you with resources and encouragement to discover, celebrate, and share your Hungarian heritage with friends and family! To receive our free product catalog or learn about our tours to Hungary and Transylvania, please email [email protected] or call 1-800-786-7851.