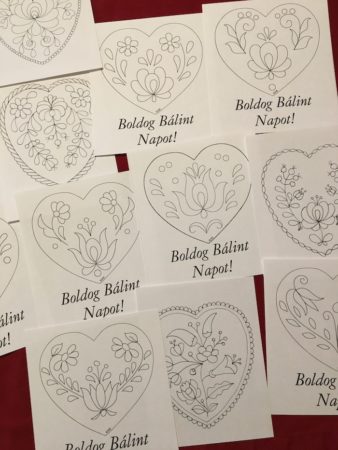 Do you have friends or family who would be sweetly surprised if you made an effort to learn something in Hungarian? Even though Hungarian is a tricky language, you can learn a few phrases and surprise your family or a special friend. You don't even have to be Hungarian to have fun with these folk art valentines!
Below there are a few greetings…appropriate for any time but inspired by Valentine's Day ~ Bálint napot.
You can print these out on paper or card stock and color them with markers or colored pencils or crayons. We like the look of the colored pencils and they are more forgiving! If you print them out on paper, you can trim them and use double stick tape and add them to a nice colored piece of cardstock. Or just print them out on cardstock.
You can also use these images as inspiration for other folk art projects. You can use transfer paper or just practice tracing over these until you get a feel for the design and then make it your own. We used some of these designs for our rubber stamp craft project.
More Hungarian Folk Art Valentines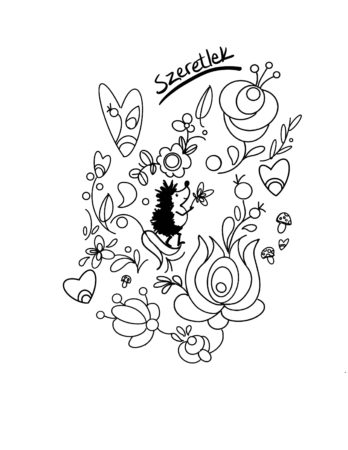 Hungarian Folk Heart Coloring Page
New for 2020! A hedgehog with Folk art flowers!
Kristen has designed other items for us! She lives in Indiana near me! Check out our hedgehog notecards!
Nikolett Corley is a gifted artist who is from Hungary and has lived in New York since 2009. She designed the folk heart coloring page!
Emese Kerkay works with the American Hungarian Museum in Passaic, NJ and is a very talented artist and worked with us to more fully develop this idea.
Some special greetings in Hungarian and English
Boldog bálint napot! Happy Valentine's Day!
Szeretlek! I Love You!
Legyél az enyém! Be Mine!
Te vagy a legjobb! You are the best!
Szívtől szívnek! From my heart!
Te egy gyémánt vagy! You are a treasure!
Köszönöm hogy a barátom vagy! Thank you for being my friend!
Jézus szeret! Jesus Loves You!
Isten szeret! God Loves You!
At Magyar Living, our goal is to help you discover, celebrate and share Hungarian heritage! Check out our e-newsletter options HERE!
Magyar Marketing ~ The Hungarian Store is second-generation family business and a place to go for meaningful and practical gifts! SHOP HERE. Request our catalog! Send your full name and mailing address to Liz@MagyarMarketing.com and we will send one out to you!