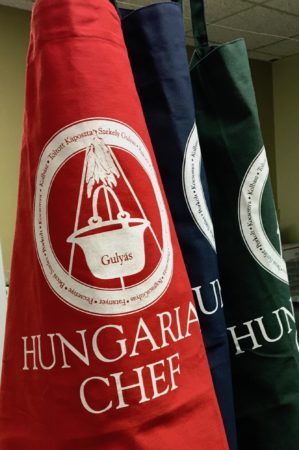 How the Let's Cook Hungarian Challenge Works!
In order to qualify for one of the fun aprons pictured here, you must complete each recipe during the month it is due. If you have already qualified for an apron before, you will not be able to earn a second apron, but we encourage you to join in on the fun! This isn't really about the apron, though that can be a small motivator. This is about more Hungarian food in your life!
Send an email to [email protected] with your full name and mailing address and tell me you want to participate in the Let's Cook Hungarian Challenge. To participate, you need to sign up for our e-newsletter. We offer 4 options of the e-newsletter and they are all fun and interesting, but the 3rd week is the one that will always have the recipe!
1st week – Hungarian Events, News, & Organizations
2nd week – Hungarian Language, Genealogy, & Travel
3rd week – Hungarian Recipes, Foods, & Traditions
4th week – Hungarian History, Inventions, & Creative Inspiration
Sign up HERE to receive at least the newsletter for the 3rd week, which will always include the recipe that you need to make for the following month. If you want a little extra encouragement and fun, you can join the Let's Cook Hungarian Challenge Facebook group. Once I know you have signed up for the e-newsletter to receive the recipes, I will admit you into the group.
Let's Cook Hungarian Challenge Rules
Make the dish by or before the end of the month it is due. You only need to do one of the following for it to count as a finished task:
Submit a photo of the finished product.
Submit a photo of you cooking it.
Submit a few sentences about the process and what you learned.
Then we will count that as a completed challenge. There will be 12 recipes, one for each month! The free apron (and no shipping charge) part of this offer is only available in the United States. If you are outside of the U.S. and would like to participate and qualify for the free apron, you will need to agree to pay the shipping charges. But anyone can join in on the challenge just for fun!
I will supply a recipe, but you are not bound to that recipe. The goal is to cook the dish and see what you think. If you have access to a family recipe that you love or have never even tried, fantastic! Use that one! Or use the recipe from a family friend or your favorite cookbook. You do not have to follow the recipe I give you. If you need to adapt the recipe a bit due to allergies or strong food preferences, that is fine. The hope is that you will find some recipes that can work in your life. You might not love everything you make and that is ok, too.
If you can involve older or younger generations in this process, that is even better. If you are a grandmother or grandfather who lives near their grandchildren and can have a Hungarian cooking day, how fun is that? Or you and a cousin may decide to cook something together once a month – it's a great family bonding opportunity! Maybe you have a non-Hungarian friend who loves to experiment with recipes – that sounds like one of the ingredients for a perfect afternoon! In these times of social distancing, maybe you have a video chat with an elder family member and discuss the recipe — find a way to make it work!
The most important thing is to not take this process so seriously that you don't have fun. I am here to learn and stretch and grow and I hope you are too! If you have any questions, please let me know! I am definitely not an expert, but I don't mind trying to find the answer.
Check out the recipes we tried in 2018 and 2019! I have not posted the 2020 recipes we used yet.
Check out just a few comments from our participants:
"Thank you for an amazing year learning to cook Hungarian and bringing me closer to my mom and my heritage." ~ Veronica
"I want to sincerely thank you for creating the cooking challenge. It has been SO nice doing this with my husband and my mom. For mom, it brings back memories, sharing stories, and an "excuse" to cook. She's an amazing Hungarian cook, but has cooked less and less in the last twelve years since dad passed away. Once in a while, she'll make something for us yet, but as she's on her own and getting older, she doesn't do nearly as much anymore. The whole time we're doing our challenges, she remarks how much fun this is, how she misses this, and she laughs saying that she never thought she'd be doing this again. So Liz, that in itself is priceless to me. Thank you for such a gift. My husband is enjoying it too and we're both learning so much, plus enjoying some very delicious dishes, as well!" ~ Cathy
"My daughter and I had a lot of fun trying the January recipe challenge. Our little pogácsa turned out well, and we'll definitely be making them again. I think next time we may try adding a little cooked crumbled bacon to the cheese mixture! Looking forward to the next challenge!" ~ Amy
"Hello! I finished January's challenge and had a lot of fun! I invited a couple relatives to join the challenge and it's been fun to share stories and photos with them too!! I made your "Agi's Pogácsa" recipe and it turned out very good. My family loved them! I really appreciate this cooking challenge. My mother is Hungarian and grew up with some of the traditions on their farm. Her grandparents came to America in the early 1900's. As I was growing up we did not eat too many Hungarian dishes although I remember some of them and liked them a lot. (tarhonya, chicken and dumplings, kifli, sauerkraut & "dumplings", and Hungarian drop noodles.) I ordered some Hungarian foods from you for Christmas and shared them with my family. I am hoping to try more Hungarian food this year and bring back some old recipes from my past. Perhaps I can pass on some of this to my children." ~ Michele
"Thank you for starting this challenge! I love the idea that I will learn more Hungarian recipes even though my grandmother and great-grandmother are no longer here to teach me. While I was making the pogácsa today, I was reminded of some of their cooking habits and tricks, and ended up with many fond memories of these beautiful grandmas in their kitchens. My hand mixer was acting up, so I cut-in the butter with the flour to pea size with a fork. I also didn't have a small round cookie cutter, so ended up using a small juice glass, as we often do to cut the moon shapes (overlapping circles) in our family's Hungarian Moon Cake recipe." ~ Laura
"I want to thank you for doing this cooking challenge. This is giving my brother and I something to do together even though we live in separate states. Also, it's finally the chance to learn more about Hungary. " ~ Gary