I love Hungarian folk art! And, if you haven't noticed yet, I love to see it expressed in a variety of ways! We love to encourage the connection to Hungarian folk art, even if you are a bit removed from your Hungarian heritage. So, here we are with some encouragement for some Hungarian folk art on finger and toe nails, if it suits you!
I typically get a pedicure once or twice a year — at the start of summer and then again at the end of summer. And as the days are getting warmer here in southern Indiana, I am getting ready to think about what kind of design I want when I make my appointment.
Different regions of Hungary have different styles of folk art. If you are studying your family tree you might want to find out the county your family is from and learn more about the specific folk art for that region. The Kalocsa region has a well-known style of embroidery but each region has its own beauty and style and the artisans are gifted with incredible talents, often passed down within families for generations!
One of our relatives had made and given these sweet doilies to two of my daughters when we visited Tiszakeszi, Hungary in March 2014.
Most of my family is from little villages in Borsod-Abaúj-Zemplén county in northeastern Hungary. Matyó style embroidery is from the community in and around Mezőkövesd in that same county and is characterized by floral motifs. I found a nail technician in the USA who was able to recreate the Matyó design.
I was very pleased with the results!
The nail technician was not Hungarian but was able to pull this off very nicely. When I stopped at the shop with my request, none of the technicians felt they could do the job so they directed me to the owner who was off that day. I went the next day and the owner was clearly up to the challenge! I think the color contrast in the large flower made this job a little easier to do. I loved the outcome of this project!
I am adding in a sweet variation that is even easier to pull off! And I do like red and the contrast with the white! Ilona from Western Australia found a talented nail technician who was able to make this little folk art image on her nail! Next time I get a pedicure, I am going to try for this look! Having a Hungarian theme is a perfect way to celebrate summer!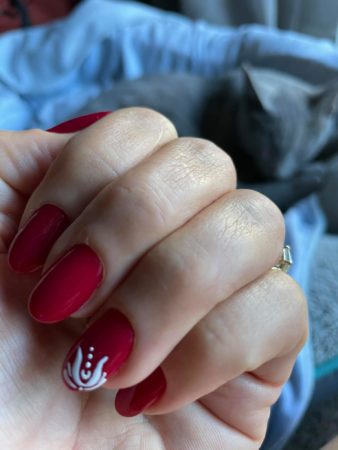 What other variations have you seen? I would love to see them!
We love to help people discover, celebrate, and share their Hungarian heritage. Visit Magyar Marketing ~ The Hungarian Store for all kinds of resources! Sign up for our e-newsletters and let us know if you want us to send you a catalog!