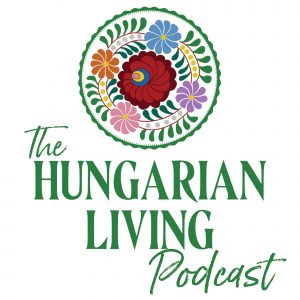 Episode 80
This is part 7 of the icipici series of Celebrating Christmas with Hungarian Style on the Hungarian Living Podcast.
Food traditions are always important around the holidays. This episode has an observation and a little bit of encouragement to continue cooking Hungarian food and teaching others how to do it, too!
Have you ever made a walnut roll? I grew up calling these lovely pastries kalacs but, apparently, they are now known as Beigli. And, wowee, people sure get up in arms about the words that are used. So, for today, I am going to refer to this as a walnut roll. And whatever you call it in your family is fine. I have heard the definition was refined a bit during the years that my great grandparents were gone from Hungary. You know, language changes. But, in honoring their traditions – and my own family traditions, I will probably always refer to this item as dios kalacs or walnut roll.
For the last several years we knew our baker was planning to retire and move to Hungary. He had the some delicious walnut rolls — he called them beigli. And for the last several years I have been encouraging people to get back into the kitchen and learn how to make them. We even held a cooking class with this item as the star of the show! These are worth learning how to make. And you don't even need to be Hungarian to learn how to make them.
The recipes are all somewhat similar. And when I say somewhat, that's what I mean. There are differences here and there, as with all recipes. Instead of looking at this as a chore, look at this as fun! It's an experiment! Make a couple of different recipes and decide which one you love and are willing to make. I would be tickled if everyone tried to make these at least once or twice.
Enjoy experimenting and finding the recipe you love best! And, if you have a family recipe, that is even better! Make them and teach the next generation!
Recipe 1: Walnut Roll
Recipe 2: Be sure to WATCH THE VIDEO for recipe 2!
Walnut and poppy seed Beiglis from Szoky's Kitchen
Here is his video with English subtitles. When you watch it you will understand the recipe better. Enjoy experimenting and finding the recipe you love best! And, if you have a family recipe, that is even better! Make them and teach the next generation!
Ingredients for four large beiglis:
For the basic dough:
1 kg (2.2 lb) sifted all-purpose flour
400 grams (1 3/4 cup) butter
2 egg yolks
250 ml (1 cup) of milk Note: the quantity of milk could change by 5 cl (~3 tsp), depending on the flour's protein level
100 grams (~3.5 oz) of powdered sugar
20 grams (4 tsp) of fresh yeast or (6 grams [1.2 tsp] of dry active yeast)
1 teaspoon of salt
Mix the dough. Watch the video for his technique. He has some great advice in this video. When dough is ready, split into 4 equal parts, wrap, and refrigerate for an hour. In the meantime…..
Make the syrup. Do not overheat, just dissolve the sugar in warm water to make a sweet syrup.
300 ml (1 1/3 cup) of boiling water
5-8 cloves in a tea ball
600 grams (3 cups) of sugar
Walnut filling for 2 beiglis :
500 grams (1.1 lb) of the ground and chopped walnuts
mixed the zest of 2 lemons and 1 orange
1 tablespoon ground cinnamon
80-100 grams (3 – 3.5 oz) of raisins (can presoak in rum or water)
Add the syrup just until moistened
Poppyseed filling for 2 beiglis :
500 grams (1.1 lb) of ground poppy seeds
The zest of 2 oranges and 1 lemon
1 tablespoon cinnamon
3 tbsp. vanilla sugar or 1 vanilla bean stick, seeds scraped
Add the syrup just until moistened
If you like raisins in the poppyseed filling, feel free to add some.
Once the dough is rolled up, brush them with egg yolk twice. After applying the first coat, place them in the fridge for 25-30 minutes, until completely dry. Repeat brushing and let them dry again in the fridge for another 20 minutes. This is necessary to achieve the perfect marble effect.
After the second coat of yolk is dry, brush them with egg whites and place them in a warm spot in the kitchen to rise for about 30 minutes.
Bake them in a 400° F (200 ° C ) oven for 35 minutes. If you are not certain of your oven's temperature or if you are using a gas oven or an older electric oven, bake them at a lower temperature of 350 ° F (170-180 ° C). Allow complete cooling before cutting. If you wish to make only one kind, poppy seeds or walnuts, prepare the double amount of filling of that kind.
When the beiglis have cooled completely, storage is recommended in a cool place, wrapped in plastic food wrap. They will stay fresh and enjoyable for several weeks. Enjoy!
We are working with a new baker to bring these back to our store. In the meantime, make some memories in the kitchen and bake some walnut rolls.
Enjoy this season and have fun celebrating with Hungarian style! The next part will be the 8th of this series. Please recommend the Hungarian Living podcast to someone who loves their Hungarian heritage!
Check out Hungarian Living
Visit The Hungarian Store
View our upcoming tours to Hungary and Transylvania on Magyar Living