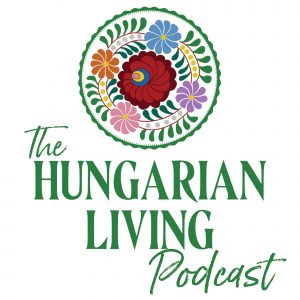 Episode 57
Hey there! This is Part 8 of the icipici edition of the Hungarian Living podcast on Getting Started with Genealogy
I hope you have taken some time or plan to set aside some time to work through the other episodes and grab a notebook and maybe even a box to gather your genealogy information in one spot. And you might be thinking to yourself, what's next? Well, you will find that researching your family tree will open up a lot of doors. And each door gives you an opportunity to explore!
I have a few recommendations for you as you are moving forward. So be sure to visit Hungarian Living and click on the podcast section for all the details on this (and the other episodes)!
If you have not signed up for a free account for Family Search, you should do that right away. It is free and will be helpful for you as you research! The website is FamilySearch.org
If you are on Facebook, please join the Hungarian Living Genealogy Group! You will learn so much from the folks in this group! And, the great thing is that they are from around the world! So while you learn more about yourself, you might also learn about Hungarians as they moved about in other countries. It's fascinating!
If you need some extra help with genealogy, you can purchase time with a researcher who can train you on how to use some of the genealogy websites out there. Or they can simply get you jump started on your research. You can purchase that through The Hungarian Store.
We have a special product Hungarian Living Genealogy Pages – it helps you organize your family members and thoughts around your genealogy. It is available at The Hungarian Store.
If you know some Hungarian or you wish you did, you are in luck because we are starting language lessons again! We have over 100 students learning Hungarian in small groups that meet for one hour at a variety of times during a week and at a variety of levels. Classes will start up again in August and will run for 14 weeks. Our students range in age from 25-80+ and, truly, that is a part of the fun! There is more information at TheHungarian Store dot com but I will have a link in the show notes. But hurry! Classes are starting soon!
We have a Hungarian history class coming in September – it is a broad overview of the history of Hungary from the start to where it is now. And we have a class that highlights some great places to visit on your next trip to Hungary. I will have a link in the show notes but you can also visit The Hungarian Store and check out our online classes.
As you keep digging into genealogy, it is very natural to want to travel to Hungary to "see for yourself" where your family line is from. We have our Magyar Living Tour schedule up at the Magyar Living website. We are offering three different tours in 2023 — two in Hungary and one in Transylvania — and we would love to have you join us.
And finally, we have several other podcast episodes you should check out. And we will have links to these in the show notes or, if you follow or subscribe to the Hungarian Living podcast, you will be able to look for them!
Of course, I recommend all of this Icipici series on Getting Started with Genealogy but don't forget to check out
Episode 35 Genealogy with Les Josa
Episode 45 Genealogy Adventures
Episode 48 Pictures and Old Letters
Connecting with your Hungarian heritage helps you understand more about your family and some of your habits and traditions. We love to encourage people as they discover, celebrate, and share their Hungarian heritage!
We will be hosting more icipici podcasts on the subjects of Hungarian language, Hungarian cooking, travel, and writing down your memories!