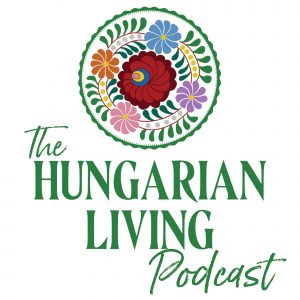 Hey there!
You are listening to the Hungarian Living podcast where we explore all sorts of things that revolve around Hungarian heritage. Today we are talking a bit about tours to Hungary and Transylvania and, specifically, our tours to Hungary and Transylvania through our other business, Magyar Living Tours, so, stick around.
Since we have three tours coming up this year and we are already planning for 2024, we thought this would be a great time to talk about tours and tell you a bit more about how we do them. And the great news is you can still jump in on the ones we have going this year. In fact, if you are passport ready, I invite you to come along with us in June for our Cultural Tour in Western Hungary and Budapest. We still have a few seats available! The dates are June 3-16, 2023.
But first, let me tell you a little bit about how and why we do tours as well as the kinds of people who participate. We have a great time, and we have a number of folks who have joined us for multiple tours because they love how we do things! It's always fun when our tour participants stay connected with the others who have been on their tour. That is one of my favorite things about our trips – they help connect others who are passionate about Hungarian things. Most of our participants have some Hungarian heritage and those who don't most typically love someone who does.
Once we get to Budapest, we take care of the rest of the details! We pick you up at the airport and we get you to your hotel. Each full day of the tour there are two meals provided – breakfast and then either lunch or dinner. You are on your own for one meal a day and, honestly, you might just choose an ice cream cone or pastry for that meal. Or you might find a langos or palacsinta stand. !ndulge a little!
We have coach transportation, all your hotels are arranged, and everything that is on our itinerary is already included in the price of the tour, so you don't have to worry about having a ton of money along unless you really want to shop.
On every tour we offer a wide variety of experiences because we think it is important for you to know a bit about the history and culture, eat good food, taste great wines, sample some palinka, and see folk art, castles, and the beauty of Hungary in an up close and personal way. And, of course, there is always time in Budapest. But I believe the beauty is in the countryside. Of course, that might be because my family really wasn't from the big city. We were from smaller towns and villages. In fact, many of my 2nd and 3rd cousins still live in and around the same village in northeastern Hungary where my grandmother was born in the early 1900s.
If your passport is ready to go – please double check your expiration dates – and if it does not expire until at least January 2024, you can even join us on our June trip! We will be visiting Sopron, Esztergom, Lake Balaton, and all sorts of cultural gems! But hurry! You need to contact me at [email protected] right away or visit MagyarLiving.com and check out the details. Time is running out!
If you want to join us on our Fall Folk Art and Culinary Tour, we will be visiting Kecskemet, Szeged, Mako, Kalocsa, and we will even pick some paprika! The dates for this tour is September 2-15.
And then, we are headed to Transylvania! From Sept. 16-30 we will be all around Transylvania and get to see the beauty of the county. There will be a specialty cooking course and a folk dance show We will also have some hiking opportunities as well as visit a citadel and fortified church. There is nothing like Transylvania! In fact, you are welcome to come for the Fall tour and stay for the Transylvania trip too! They are back to back for a reason – so get the most out of your plane ticket!
And, coming up on Tuesday, April 11th at 8pm, Eastern time there will be a Zoom chat where Don and I will talk more about our tours and you can ask your questions. We would love to meet you – even if you aren't planning to travel in 2023, come and learn about how we do things so you know if it appeals to you! Just email [email protected] for the Zoom link.
We'll have links in the show notes so you can check out our tour website – and we would love to see you at the Zoom chat so be sure to request the link. And if you know someone else who would like to travel to Hungary and they don't want to deal with all the details, share this episode with them! Come. See for yourself. Once you visit, you will want to plan your next trip!
Thanks for listening! And if you want some travel tips, be sure to check out our IciPici series on Traveling to Hungary on the Hungarian Living podcast. In those episodes we share some things you need to keep in mind for any international travel coming up!
Please share this podcast with others who are interested in their Hungarian heritage or interested in traveling to Hungary or Transylvania!