If you are a part of our Hungarian Living Genealogy Group on Facebook, you might remember when Laszlo (Les) Josa (one of our administrators who has since passed away) went to see the bell while it was in Louisiana in an antique shop. Here is what he wrote from that day in early February 2022:
Hello all! I went to the Lagniappe Antique Etc. in Breaux Bridge, LA (l live about 10 miles to the west. I took some pictures of the bell. I may go back Monday to ask more questions of the people there. They asked me, "Why are people calling from all over. Somebody is coming from New Orleans and they said they even had people from California calling about it." I will go back to see the owner and maybe get more info. They did tell me that it was a collector who put it there.
The bell is at least 2 1/2 feet tall, mounted on a metal bar and it is about 300 pound. I could budge it at all. I have a hernia, so I did not try hard to move it. There are 3 churches in Jásztelek, a village in Jász-Nagykun-Szolnok county in the Northern Great Plain Region of central Hungary.
I went back to the Antique shop this morning because of my Facebook private message inquires. I just got back from the antique store and the owner told me he bought the bell 10 yrs ago at a large antique festival in Round Top, Texas. He collects bells and had it at his home. He decided to put it in his store about 3 months ago!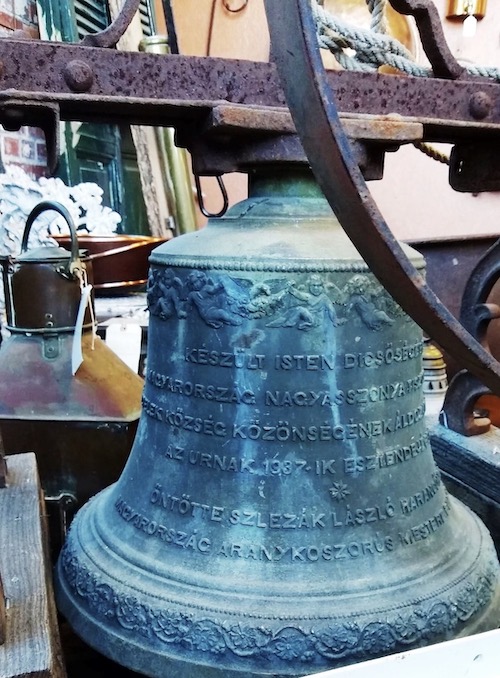 Here is what is written on the Bell
H: Készült Isten dicsősgégére
E: Prepared for the glory of God
H: Magyarországon Nagyasszonya tiszteletére
E: To honour Our Great Lady (protector – The Virgin Mary)
H: Jásztelek község közönségének áldozatkészsége
E: For the sacrifices made by the community of Jásztelek settlement
H: Az úrnak 1937-ik esztendejében
E: In the year of our Lord 1937
H: Öntötte Szlezák László haramgöntő
E: Cast by Les Szlezak, bell-moulder.
H: Hungary's Gold ribbon-award winning Grandmaster Budapest
On the other side with relief it states…
H: Szűz Mária
E: Virgin Mary
H: Magyarország Védőasszonya
E: Hungary's Lady Protector
H: Könyörögj érettünk
E: Intercede for us
Laszlo would be thrilled to know that the bell has since been returned to its church home in Jásztelek, Hungary after a twenty year absence. The FBI was involved in the process. You can read more about the bell at this link.