Learning Hungarian is a fun and interesting challenge. I heard Hungarian all through the years that I lived at home. But, I didn't actively start learning it until about 10 years ago. And my efforts were spotty. A week or two here or there is great, but I need a regular routine. So, now I am in a one hour class that meets each week and I do extra things to keep the language around me.
Below are the Hungarian words from the front and back cover of our latest catalog. These are definitely some useful words and phrases to know if you don't know them already. Maybe we will add an audio file so you can hear how they are pronounced if you don't know how to pronounce the Hungarian alphabet yet. If you want a little help with that, CLICK HERE to check out our Learning the Hungarian Alphabet video on YouTube.
How many of these words and phrases do you know? We'd love to hear in the comments!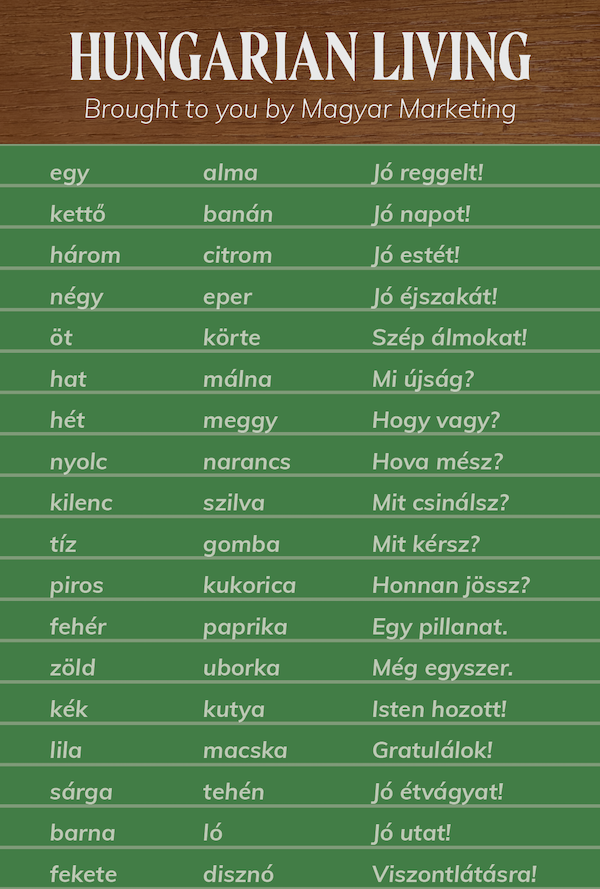 FRONT COVER WORDS
Numbers
egy – one
kettő – two
három – three
négy – four
öt – five
hat – six
hét – seven
nyolc – eight
kilenc – nine
tíz – ten
Colors
piros – red
fehér – white
zöld – green
kék – blue
lila – purple
sárga – yellow
barna – brown
fekete – black
Fruits & Vegetables
alma – apple
banán – banana
citrom – lemon
eper – strawberry
körte – pear
málna – raspberry
meggy – meggy
narancs – orange
szilva – plum
gomba – mushroom
kukorica – corn
paprika – pepper
uborka – cucumber
Animals
kutya – dog
macska – cat
tehén – cow
ló – horse
disznó – pig
Commonly Used Phrases
Jó reggelt – Good morning
Jó napot – Good afternoon
Jó estét – Good evening
jó éjszakát – Good night
Szép almokat – Sweet dreams
Mi újság? – What's new?
Hogy vagy? – How are you?
Hova mész? – Where are you going?
Mit csinálsz? – What are you doing?
Mit kérsz? – What do you want?
Honnan jössz? – Where are you from?
Egz pillanat – One moment
Még egyszer – One more time
Isten hozott – Welcome (literally, "God brought you")
Gratulálok – Congratulations
Jó étvágyat – Enjoy your meal
Jó utat – Have a good trip.
Viszontlátásra – Goodbye (literally, "See you later")
_______
BACK COVER WORDS
Commonly Used Phrases (Continued)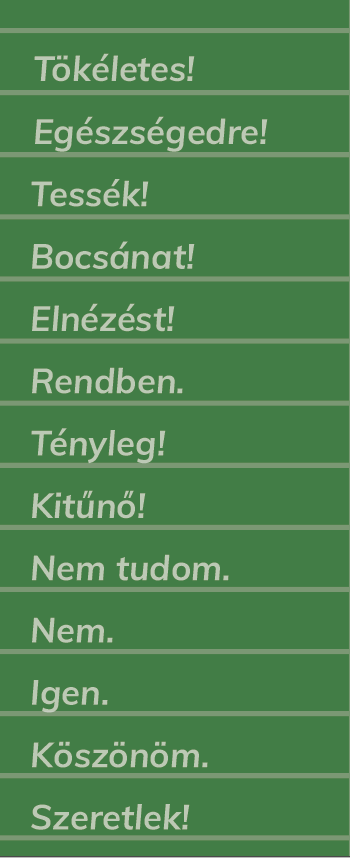 Perfect
Cheers! To your health!
Please (as in "Go ahead"
Pardon me (as an apology)
Excuse me (as in "May I ask you a question?")
Okay.
Really?
Excellent
I don't know.
No.
Yes.
Thank you.
I love you.