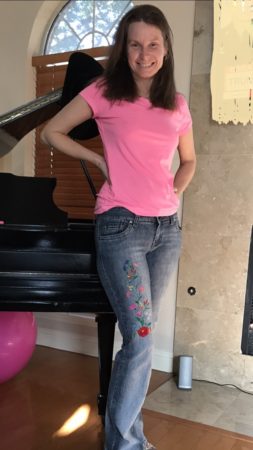 Recently, I became connected with Rita from Plano, Texas. I love her story and I hope it serves as inspiration for others who would like to work on a project like this!  ~ Liz
I am from Tiszaluc, near Miskolc which is the NE part of Hungary. My Mom always "fixed" our buttons or rips, holes on our clothes. I always wanted to do it so was really happy to learn to sew when I was little. When I was about 5, got a beginners stitch kit and every night I was stitching. Those cold winter nights we had to pick up something to do, and stitching was my thing.
In my town we actually had a "stitch-club" with a group of ladies who would meet up one night a week, bring their stitch work along and talk, socialize, disconnect and sew. There was an instructor who knew it all and showed us how to do things and gave us advice. My Mom was a member until she had kids. Then, when I was about 8, I joined this group. I have some amazing memories and have found some photos of my Mom attending this group.
One time I was around 9 and it was a winter night. We already were in our pajamas and Mom let me sew just a little before going to bed. I was so excited as I thought that my stitching that I did that night was the best I had ever done. I wanted to show it to my Mom and, as I lifted up the small fabric from my thigh, I realized that I stitched it all to my pajama pants. I had to take out all the stitching that I had done that night and I was crying.
The way I got the pattern on my pants was a bit time consuming. I searched online for different pictures of flowers, When I found what I liked, I drew it on paper. I enlarged some and minimized others to make it all perfect size. Once I was happy with it, I copied over to my pants.
~ Rita
Looking for some templates for embroidery? Check out our Valentine and our Easter folk art designs for some inspiration!
At Magyar Living, our goal is to help you discover, celebrate and share Hungarian heritage! Check out our e-newsletter options HERE!
Planning a trip to Hungary? We would love to help you as you plan your trip. We can create a customized tour and even include stops in your ancestral village. Or, join one of our already planned tours and discover the beauty of Hungary! Give us a call at 1-800-786-7851 and let's discuss the options.
Magyar Marketing ~ The Hungarian Store is a place to go for meaningful and practical gifts! SHOP HERE. Request our catalog! Send your full name and mailing address to [email protected] and we will send one out to you!