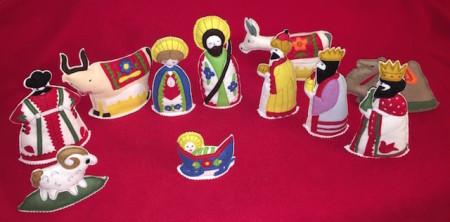 Music is a universal language and in our family we experienced a lot of exposure to music growing up. We had a baby grand piano in our living room so we made good use of it by taking piano lessons along with some violin lessons for good measure. Almost all of the kids played a musical instrument in orchestra and/or sung in a school or church choir. Music was all around us all the time.
At Christmastime, one particular memory I have is when one of the local Hungarian congregations would come by on a cold December evening and sing Hungarian Christmas carols outside our home. What a special memory! Because we had sung the Hungarian Christmas carols and heard the music at church and on the local radio program, we were familiar with the songs even though we did not know the full translation of the words. Some of my favorites include Mennyből az Angyal and Pásztorok, Pásztorok. If you click on those links you can see the words and hear the music.
Even if you are not a part of a Hungarian congregation (they are getting a little more rare these days) consider gathering a small group of people who like to sing (if they know some Hungarian, it is a big bonus) and who might be interested in Hungarian Christmas caroling.  You can even surprise your listeners with some Hungarian pastries or szaloncukor. This is a great way to gather the generations together and reach out to those who might be lonely and missing their loved ones. Here is a list to get you started thinking of where to find some Hungarians who might appreciate your efforts–I am sure I haven't thought of everyone:
*nursing home residents
*homebound
*recent immigrants
*foreign exchange students
*anyone you know who knows Hungarian
Music is such a wonderful way to connect the generations and keep the language fresh. I suspect you will be blessed by the rehearsal time as well as when you see the appreciation on the faces of the recipients. Be sure to ask about their Hungarian traditions–they will probably be excited to share their memories!
If you would like to order a collection of Hungarian Christmas carols with English translation (first verse only) on easy-to-play sheet music, CLICK HERE!