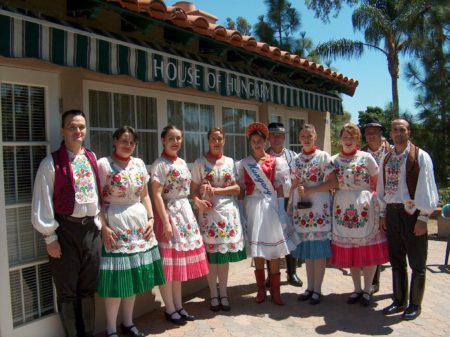 House of Hungary in San Diego is a non-profit group of volunteers. Our goal is to promote Hungarian language and culture by providing a place for people to get together, speak the language, enjoy, concerts, literary events and celebrate holidays.
There is an ethnic food fair in May and a 2-day Christmas festival in December that we participate in and earn enough money to finance our house and upcoming events. This wouldn't be possible without the hard work and dedication of our members.
Our house is located in historic Balboa Park, a famed tourist destination. We are part of a group of 30 international cottages. Visitors get a chance to learn about many different cultures while walking around the park.
Programs:
Our Hungarian language school for adults has classes twice a month on Saturdays, while our children's school meets once a month. We also started 'cserkészet' late last year.
Major holidays celebrated/commemorated are: March 15, Easter, Aug 20, October 23, and Christmas.
Last year we had quite a few events including: Kováts Kriszta Kvintett, Latin Varázs, Keresztes Ildiko and Gubán Panni who brought her exhibit of corn husk figurines.
Every year in July we have our annual picnic at the bay. It's a great opportunity for members and nonmembers to get together, catch up and play games. The house provides food and drinks.
Nagy Szilvia, our Kőrősi Csoma intern was with us for 6 months. She was a great addition and help to us. We look forward to another intern this year, too.
On our new, easily accessible website people can follow us and our activities
www.sdmagyar.org or on facebook https://www.facebook.com/SDMagyarHaz