Kürtőskalács Can Change Your Life…
… or, How We Went from Litigating to Leavening.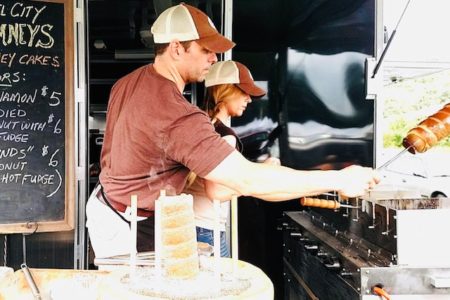 We were corporate litigators in Florida for almost ten years. Now we make "chimney cakes". Out of the frying pan and onto the rotisserie grill. But ours isn't a tale of home bakers who finally threw caution to the wind to chase their passion. No, our story revolves around admiration of and fascination with Central Europe, particularly Hungary—its history, customs, and people.
We first managed to get to Hungary in 2012 after years of reading history, listening to csárdás music in a high-rise law office (talk about getting some strange looks!), and searching out ethnic food, which was a challenge in central Florida. That first visit to Budapest was a transformative experience. There was the magnificent Opera House, majestic Parliament building, elegant Buda Castle, Fishermen's Bastion, the beautiful Matthias Church, the baths, the Chain Bridge…what an amazing city! And the people—Hungarians are so unique and interesting; they are just the best. We cannot overstate our love and admiration for all of our Hungarian friends. But this story is about food, isn't it? Hungarian food is amazing. Walking around Budapest, we came across a stand where a guy was cooking really interesting-looking, and heavenly smelling, hollow pastries on a funny looking rotisserie grill. And while they looked and smelled really good, and I mean really good, we decided we'd pass. We rarely ate bread, and anyway, weren't there more elaborate pastries and desserts to be had? But, we were on vacation…
After the first one that was that. We couldn't get enough. We were always on the lookout for chimneys and made it a point to try them wherever we found them, including the "original" chimneys, Szekler cakes, in Transylvania. We had become chimney fanatics.
In 2015, we moved to the Pittsburgh area and decided the universe had tapped us to bring chimney cakes to the Steel City. Pittsburgh, with its steel mill chimneys, was simply the perfect fit. Pittsburgh's traditions and culture were largely forged by the Central European millworkers and miners. But somehow the chimney cake remained unknown here. We wanted to be the ones to reconnect that bit of the Old World with its Western Pennsylvania progeny. Paying homage to that culture has been more rewarding than we could have imagined. Many Pittsburghers have ties to Hungary and Central Europe. We constantly meet people with stories of Nagymamas baking traditional Old World delicacies. Our goal is for our chimneys to create the same type of delight.