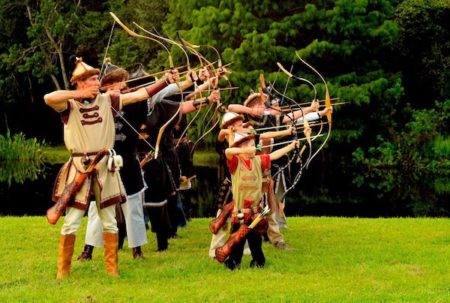 The HUN Archers are a Hungarian Archery Team based in Sarasota, Florida with a love for Archery and Hungarian Culture. Before the team existed, members practiced archery on a regular basis for recreational fun. In early 2015, we gathered our interests, thoughts, and love for the "Magyar" Culture and the HUN Archers team was created.
Our Mission Statement: "KEEPING THE TRADITION ALIVE"
We perform in traditional dress and use only handmade Hungarian re-curve bows. The team recreates ancient techniques and methods of the Old World Huns. Our purpose is to preserve Hungarian culture and the history of old Hungarian archery methods through knowledge, education, and artistic demonstrations. Since our start we have performed numerous folk, renaissance, and Hungarian festivals each year throughout the Southeast (USA). Also, the team has been featured in periodicals such as the Hungarian magazine Panorama and Amerikai Magyarság newspaper. We are proud to say that we have been grooming the younger Hun squad to continue the tradition and focus for many years to come.
The HUN Archers are gratefully looking for invitations to expand their interest base and perform at even more festivals /cultural events around the states.
Contact Info: HUN Archers Website   Email: [email protected] and Find us on Facebook – Hun Archers