A note from Liz: I was poking around on Instagram a while back and noticed these stunning photos from a variety of Hungarian folk regions. I reached out to Marcsi and we had a delightful conversation about her heritage and the work she does. Posted here is just a snippet of her thoughts on these few photos, but there are many, many more photos on Instagram, each with interesting commentary. You can connect with Marcsi on Instagram — scroll down to the link at the end!
Hungarian slippers from Szeged, worn by many Hungarian women for example in Kalocsa, or in various villages in Sárköz. The dark blue pair is one of my earliest acquisitions, I bought them in a store in Budapest, while I was on vacation. I was so happy, that I wore them even in my daily life for some time. Now you will see them mostly in my instagram post, combined with extraordinary folk costumes.
---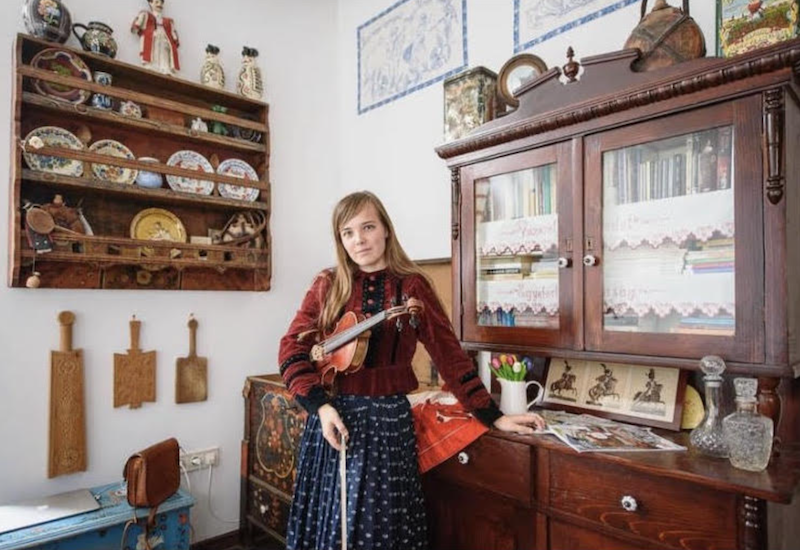 My journey started more or less with this picture. It is true that I already posted about folk costumes in the Netherlands, but when I moved to Hungary I could finally expand my collection in a more serious way. The picture depicts me among some traditional painted Hungarian furniture that are part of the living room, so this is not a museum. My goal is to educate my followers about the immense beauty of Hungarian folk culture and in order to gain a more worldwide following I write both Hungarian and English under my posts.
---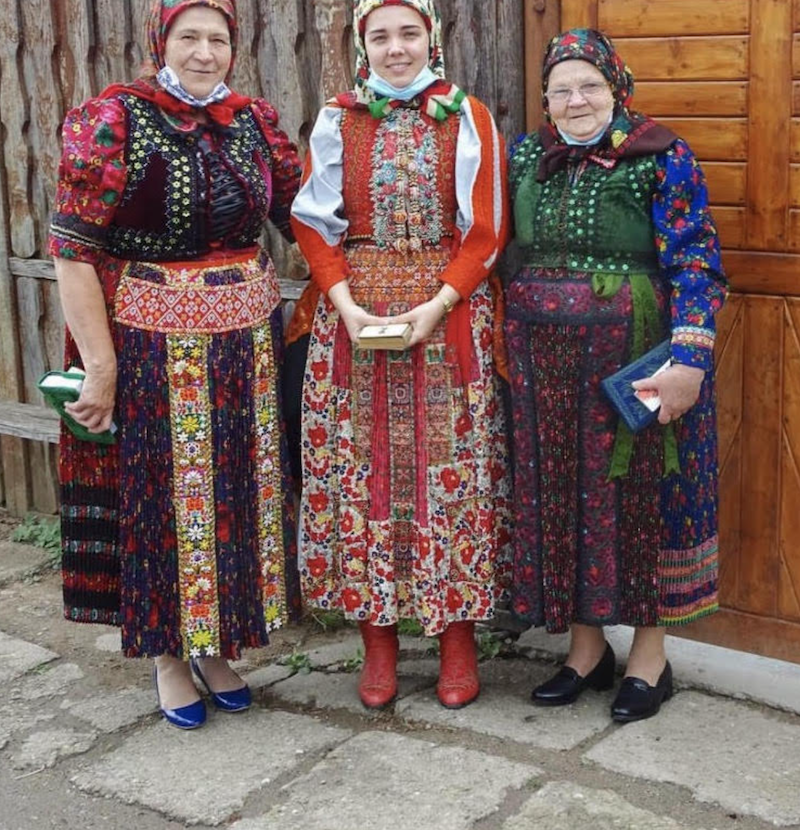 This is still today a wonderful experience and maybe also an unbelievable one. As you can see we are wearing masks, so this was during the pandemic in the fall of 2021. Hungarian clothing is still today a living tradition, so when I can, I visit the villages of the clothing that I own, to learn how to dress in a correct way. Because boy o boy, there are many rules to keep in mind when putting on a folk costume. It took almost 1,5 hours to get dresses by these two ladies. This was actually a common practice, girls would be dressed up by their mothers or grandmothers.
---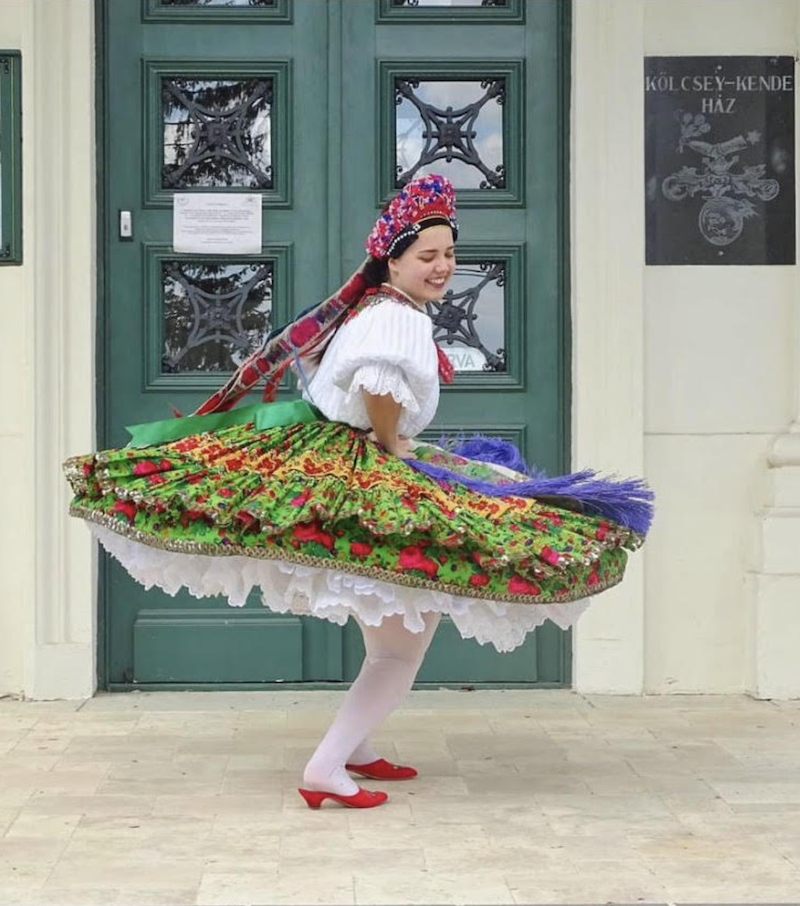 Whoosh! This costume from Sárköz was in fact used for dancing in the old days. So I learned that you actually have three types of folk costumes, the ones used in daily life (work), ones that are worn to dance festivities and the ones that are used when going to church. The costumes that are depicted on my page are mostly ones that were used (by the richer women) when going to church, because they are the most beautiful and elaborate ones.
That would mean that you would never, ever wear them to a dance, because you could ruin it. Nowadays the dance groups don't take this into account, when they are putting on a sundays dress and frolic around, damaging the decades old fabrics.
---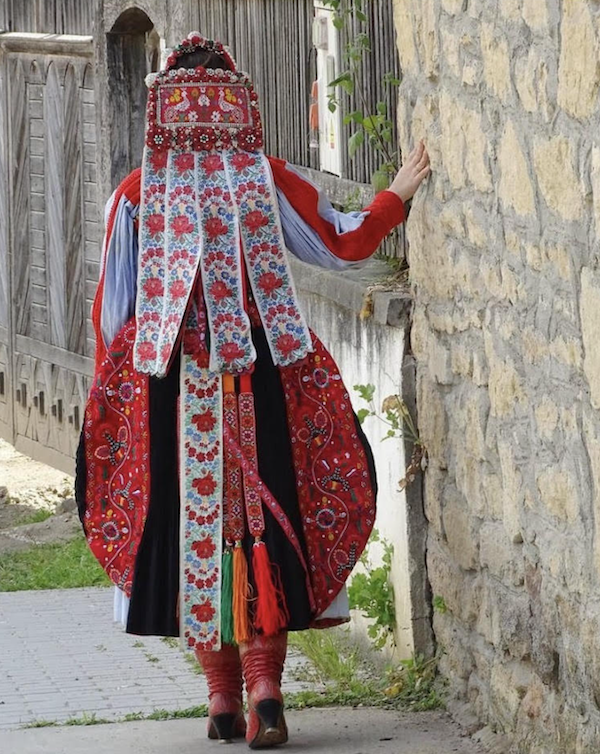 This costume from Kalotaszeg has been on my bucket list for a very long time. These pieces were scattered all over Hungary and Romania and I have collected them one by one, for over three or four years. I still know where and when I collected each component of my costume. Some of them are brand new and made locally in the villages, some of them are vintage and the blouse is the most "ancient" that I found on the internet. It was a great feeling strolling around in this costume in the village of Méra, after having to search for them for such a long time.
---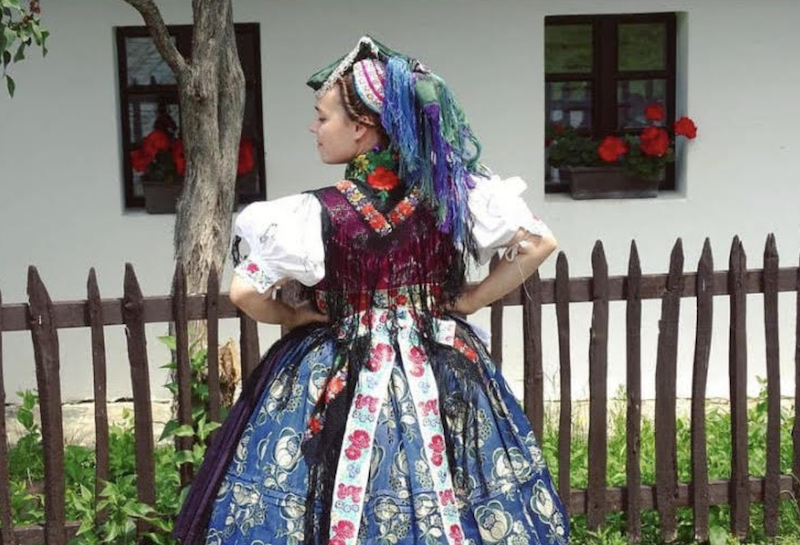 This is a Hungarian costume from Hollókő, Palóc region and again I was dressed by the locals. Especially the hair is such a tricky part along with the headdress, I would have never done this by myself. This village is actually quite famous in Hungary due to the government so a lot of tourists like to visit during festive days (especially easter). I remember very well that this was also a festive day and that some people were taking pictures from me, without asking permission. It felt kinda bad, because I am not a prop or a Disney princess, but that is the downside of tourism. Sadly you can actually see the same happening in Mohács.
~ ~ ~ ~ ~ ~ ~ ~ ~
Follow Marcsi's work at HollandMarcsi if you are on Instagram!