I am so glad you asked! 
Farmer's Cheese is an unripened cheese made from cow, goat, or sheep milk. It is similar to a dry curd cottage cheese and similar to ricotta cheese. Now that I have made it a few times, I want to research all these related cheeses because it is so interesting!
Think of your grandparents or great grandparents in their village in Hungary. They likely had a milk producing animal and they had to figure out what to with the milk that was produced. They found so many ways to utilize the items from their farm so nothing would go to waste.
Farm life isn't the easy life. Food might be plentiful, but so is the workload. And when there is abundance, it is processed for leaner times. You don't typically make something because you are in the mood for it, you cook it because it is coming out of your ears and needs to be eaten. I didn't grow up in a farming family so when I went to Hungary as a youngster, I was pretty ignorant about farm life. But that is a story for another day.
Farmer's Cheese can be used in a variety of ways. It is a great protein source, particularly if your family regularly consumes in meatless meals.
When we lived in New York, it was easy to find this cheese at the grocery store. But now that I know how to make it, I will. It is as easy as it can be and delicious!
What is your favorite Hungarian dish that incorporates this type of cheese?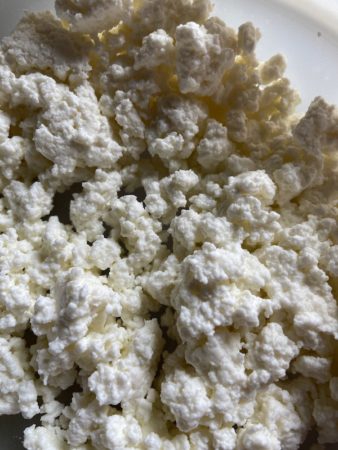 Quick Farmer's Cheese (túró) recipe
Ingredients:
8 cups full-fat milk (I have not experimented with lower fat
4 tbsp vinegar (mine had 5% acidity)
1 tsp salt (optional)
Heat slowly the milk in a heavy-bottomed pan to 180-190°F stirring regularly so the milk doesn't burn on the bottom of the pot. This is an important step — both the stirring part and the temperature part!
Remove from the heat, pour in vinegar and stir a few times. Let it rest for 30 minutes.
You can line a colander with cheesecloth but if your colander has small enough holes you don't even need the cheesecloth. Place the colander over another bowl to catch the whey that drips out. Spoon the solids from the pot into the lined colander, let drain for 30 minutes. Sprinkle with salt if using in a savory dish. Then you are ready to add it to your recipes. Think of your Hungarian recipes like körözött and a filling for palacsinta, but also think about lasagna or stuffed manicotti — you don't need to buy ricotta or cottage cheese again! Just make your own!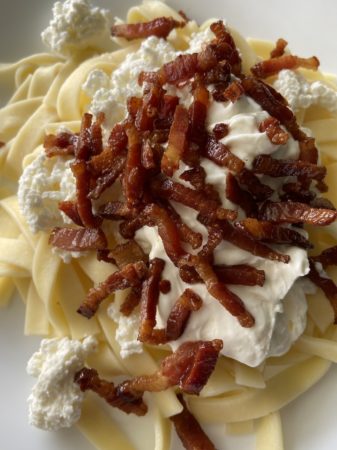 Regular pasteurized milk works fine, and raw milk is best. Do not use ultra-pasteurized milk. My husband was making yogurt one day and it did not set up so I just used that milk to make the túró and it worked well. I have not tried the method where you just let it sit out for a few days on the counter because I don't have a lot of counter space and I don't often plan that far ahead. And, when I want túrós csusza  I want to be able to pull it together fairly quickly! It is a very tasty and satisfying meal.
You can use the leftover whey for bread-making. It is a great substitute for regular water. I added it into a ham and bean soup instead of just water. Store it in a sealed container in the refrigerator for up to one week.
This cheese will keep up to a week in the refrigerator. Use it as a spread with some herbs mixed in. Add berries and eat it like cottage cheese. Use your imagination! If you have suggestions, let me know!
(adapted from: sarokkonyha.blogspot.com)
At Hungarian Living, our goal is to help you discover, celebrate and share Hungarian heritage! Check out our e-newsletter options HERE!
Planning a trip to Hungary? We would love to help you as you plan your trip. We can create a customized tour and even include stops in your ancestral village. Or, join one of our already planned tours and discover the beauty of Hungary! Give us a call at 1-800-786-7851 and let's discuss the options.
The Hungarian Store is the place to go for meaningful and practical Hungarian gifts! SHOP HERE. Request our catalog! Send your full name and mailing address to [email protected] and we will send one out to you!