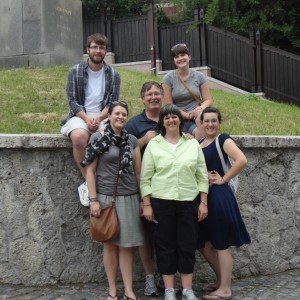 After several years of saving money, in May of 2012 our family of six took a trip to Hungary. My husband was the mastermind behind the trip planning and factored in the various interests of our diverse family. His patience and research skills have always been amazing! I am fairly certain I wouldn't have dared to take our kids on an international trip without him.
Our kids are fairly close in age and get along fairly well but their interests are quite varied. While we planned things with each of them in mind, we had no idea what they would really embrace and connect with once they were in Hungary. Among other surprises, we had one that was thrilled simply to see a field of poppies, another enamored by Roman ruins, another fascinated by the culinary opportunities, and still another who enjoyed the challenge of using her Hungarian language skills as we wandered around the country and visited with family. Each of us found many things to enjoy!
Lauren (23): My favorite part about being in Hungary was meeting all of our incredibly sweet and welcoming relatives. We loved spending time with all of them and wished we could have stayed longer or could see them more frequently. I also enjoyed the history of Hungary (and Europe in general). Until this trip, I never realized how quick we are in America to knock buildings down and build new ones rather than work with what we have. Both ways of life have their positives and negatives, but I personally love the old, unique architecture that we saw on a daily basis, and the winding streets (which were confusing!) that bring a lot of character to everything happening there. Granted, I probably wouldn't enjoy dealing with all the other problems that can come with a 200 year old building, but it was impressive to see. My favorite places were the bridges in Budapest and the gates in Pécs that had the love locks on them. Towns in other countries have this practice as well, but it was exciting to see something so beautiful in Hungary.
Landon (20): One of my favorite parts of our trip to Hungary was the history that surrounded us everywhere we went! The Terror House in Budapest was very moving. The Arrow-Cross (the Hungarian Nazi Party) used that building for prisoners during WWII after Germany took over. Later, under the Communists, the Secret Police were stationed there. We also went to Szigleti Var (castle) near Lake Balaton; beautiful ruins with an even more beautiful view from the towers! Both at Szigleti and the castle in Eger there were re-enactors who let you shoot their time-period bows! I don't mind saying I was quite the marksman! The ruins of Aquincum (the provincial capital from the days of the Roman Empire) was also fascinating to visit!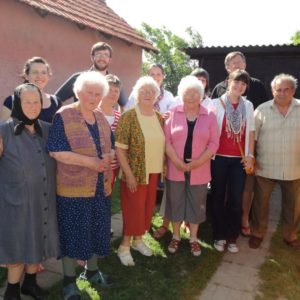 Elizabeth (17): Visiting Hungary this past May was a dream come true! I'd never been on an airplane, overseas, or to Europe so I was looking forward to all of those things. I loved the culture there and all the random things that are so different from the USA. One of my favorite parts of the trip was when we stayed in Budapest. I loved going to the ABC stores for all of our grocery needs. There aren't stores like that in the USA, so I found it very interesting. I also loved going to the little villages out in the country and seeing how the people there made their own wine and had huge gardens that provided most of their food.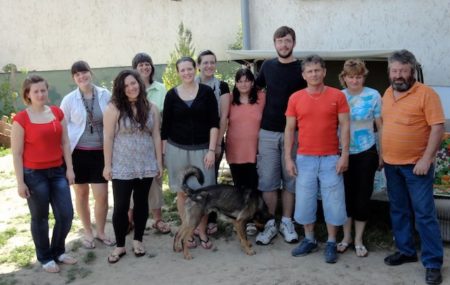 Hannah (15): I loved visiting Magyarország with my family! It was such a blessing. It was wonderful to meet our relatives in Várdomb, Miskolc, & Tiszakeszi. I also really enjoyed wandering around Pest, especially when we found a particularly delicious ice-cream. The food was so incredibly spectacular!! There were so many sausages in all the stores that were amazing. The food presentation was wonderful in all the restaurants. I'm also partial to espresso now, thanks to the Magyars. And lastly, I would like to say that I have fallen in love with Túró Rudi! I would have bought a whole package and taken them home, but alas, they need to be refrigerated!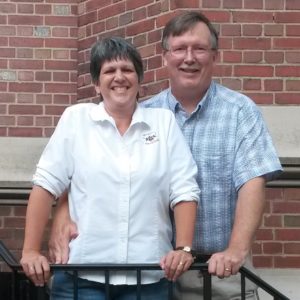 Don: Planning a trip to Hungary for a family of six was certainly a challenge. I was glad to have had the chance to travel there with my mother-in-law "Nagyi" about 12 years ago as this gave me some idea of what we would encounter. I was excited to give our other three children (Lauren was with "Nagyi" and me on the last trip) an exposure to Hungary and both the urban and rural aspects of life there. We balanced the trip with time in Budapest and then time both east and west in the country with a quick visits in Eger, Pécs, and Miskolc. I had not been to Lake Balaton and we enjoyed the area during the off-season time. While some shops and restaurants were closed the traffic was also light and no lines were encountered! Watching the Olympics now brings even more excitement as we cheer for both the American and Hungarian athletes. As we flew out of Budapest we were joined on our flight by the Hungarian water polo team. The castles, buildings, and museums were all memorable but the best part of the trip was getting to meet our extended family and experiencing their hospitality. They were very patient with this 'out-law' with very limited Hungarian. The idea of going back is now stronger with more of the country to explore and especially with chance to reconnect with family.
Liz: I am so thankful for the opportunity to have been able to visit Hungary as a family. It was definitely a trip of a lifetime. Even though we were celebrating our 25th Anniversary (in 2011) we did feel like it was a moment to share with our kids and we so glad to have the time off, good health, and resources to commit to this adventure. It was a wonderful time together and the most significant part for me was each of us being able to connect with our extended relatives. Precious, precious memories.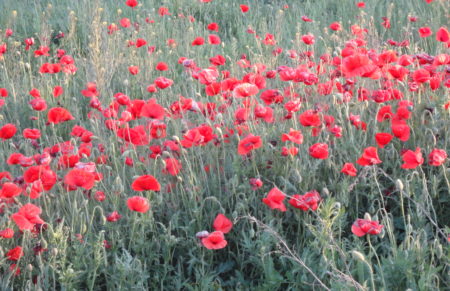 Read more about our family connections in Hungary HERE!